Australia Mining Stocks Have Never Mattered Less After Slump
Commodity producers make up smallest share of market on record

BHP dethroned as nation's biggest stock by Commonwealth Bank
Australia's stock market was once synonymous with raw materials. Not anymore.
Commodity producers and the companies that service them made up less than 14 percent of the benchmark S&P/ASX 200 Index on Tuesday, the smallest share in data going back to 2002. In 2008, material shares comprised almost one third of the gauge. BHP Billiton Ltd.'s market value is now about A$5 billion ($3.5 billion) less than that of Commonwealth Bank of Australia. At its peak seven years ago, the mining company was more than A$200 billion bigger.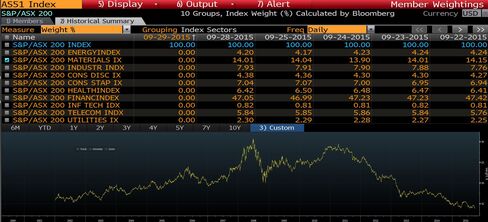 Mining companies sank in Sydney on Tuesday as Glencore Plc's stock-price collapse highlighted the threat of sliding commodity prices amid China's economic slowdown. Investors are questioning global growth forecasts as the Federal Reserve prepares to lift U.S. interest rates, which will push up the dollar and further weigh on commodities, according to money manager Angus Gluskie.
"We are staying away at this stage," said Gluskie, a managing director who oversees $550 million at White Funds Management Pty Ltd. in Sydney. "They are cyclical assets and in the peak period, the percentage of the market that they made up was inflated. Now we're coming back to the other extreme and somewhere in the middle is probably the longer-term average."
The world's two biggest mining companies, BHP Billiton Ltd. and Rio Tinto Group, tumbled 6.7 percent and 4.6 percent, respectively, in Sydney. Still, financial firms make up the largest share of Australia's stock market. That proportion has steadily risen since 2008 as the commodity component has decreased, and now stands at 47 percent. Financials make up 21 percent of the MSCI World Index and materials firms 4.4 percent.
Stock Slump
The S&P/ASX 200 fell 3.8 percent in Sydney Tuesday. The measure has tumbled 18 percent since reaching a seven-year high in April, while the gauge of material stocks is down 25 percent from a March peak.
"It's not just China but people's growth forecasts for the world are continuing to nudge down," Gluskie said. "With the resource space it's a bit of a realization that there are some ongoing factors that'll work against it. People are adjusting to that in their thinking and maybe some investors had been a bit blasé in the lead up."
Before it's here, it's on the Bloomberg Terminal.
LEARN MORE