Alcoa to Split Into Two Publicly Traded Companies
Move follows CEO Kleinfeld's focus on valued-added operations

Kleinfeld to lead new, as-yet-unnamed downstream company
Alcoa Inc., the top U.S. aluminum maker, will break itself up by separating manufacturing operations from a legacy smelting and refining business that's struggling to overcome booming production from China.
The transaction will create an as-yet-unnamed company comprising Alcoa's downstream production assets, including those that make components for the auto and aerospace industries. The name Alcoa will be retained by the upstream business, which mines bauxite, refines alumina and smelts aluminum, it said Monday in a statement.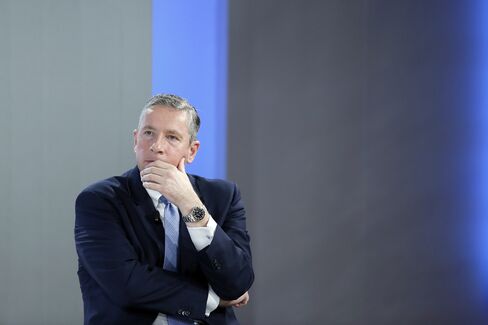 Alcoa rose the most in a month and was the best performer in the S&P 500 Index.
The split marks the culmination of a strategy pursued by Chief Executive Officer Klaus Kleinfeld since taking the reins at the 126-year-old company in 2008. The former Siemens CEO has relentlessly emphasized the company's focus on value-added aluminum products while rationalizing a commodity-aluminum business that was once the world's largest by volume.
"We've worked very hard on changing the setup of both of these businesses," he said in a telephone interview after the announcement. "All of this has led to a structure of both firms to really be competitive and be able to run on their own."
Smelting Struggle
Alcoa has struggled with its smelting business amid chronic oversupply in aluminum markets. The price of the metal has fallen 16 percent this year as consumption in China slows while producers there try to export more metal. Alcoa unveiled its plans on a day other commodities producers tumbled. Glencore Plc fell as much as 31 percent on concern its debt-reduction plans are inadequate as China's slowdown collides with an increase in supply.
U.S. Midwest aluminum premiums fell to a 53-month low this month. Changes in London Metal Exchange warehousing rules and ample supplies lowered the price added for immediate delivery for transactions at Detroit warehouses. Just eight months ago, multi-year-high premiums boosted margins for companies like Alcoa that benefit from physical delivery of the metal.
Right-sizing
The split may help Alcoa accelerate restructuring of its commodities operations, Josh Sullivan, an analyst at Sterne Agee CRT, who has a neutral rating on the stock, said by telephone.
"They have to rightsize this company, there's no putting it off and doing it in a more structured mannered as they had been in the past," Sullivan said.
On completion of the split, Kleinfeld will continue to lead the new downstream company and will also serve as chairman of the upstream company "for the critical initial phase, ensuring a smooth and effective transition."
The tax-free transaction is expected to be completed in the second half of 2016, giving Alcoa shareholders all shares of both the upstream and value-add companies, it said. Morgan Stanley and Greenhill & Co. are financial advisers and Wachtell, Lipton, Rosen & Katz is legal counsel for the separation.
Rating Target
The new, upstream Alcoa will employ about 17,000 people. It had revenue of $13.2 billion in the year ended June 30 and earnings before interest, taxes, deprecation and amortization of $2.8 billion. It will hold a "strong non-investment grade" credit rating, New York-based Alcoa said.
The downstream company will have about 43,000 workers, with sales of $14.5 billion and Ebitda of about $2.2 billion in the year through June 30. Alcoa, which said it will target an investment-grade rating, has been striving to boost sales in the automotive industry. In December, it unveiled a process to produce high-strength alloy as an alternative to steel. Automotive revenues are expected to increase 2.4 times from 2014 to $1.8 billion in 2018, it said in the statement. It's also looking to the aerospace industry for growth.
The shares rose 5.7 percent to $9.59 at the close in New York, the steepest gain since Aug. 28. The S&P 500 Index fell 2.6 percent.
"They finally came to the realization that even though half of their business is doing really well, it's still the commodity side that keeps dragging it down, so in order to get proper valuation the split is probably a good thing," Bill Selesky, an analyst at Argus Research, said by telephone.
(An earlier version of this story incorrectly reported the target date of the deal's completion.)
Before it's here, it's on the Bloomberg Terminal.
LEARN MORE