Traders Fleeing to Yen in Global Rout Become Enemy of Abenomics
Yen set for first quarterly gain versus dollar since mid-2014

Speculation builds BOJ is reaching its limits on stimulus
Risk-averse investors are becoming the nemesis of Japanese Prime Minister Shinzo Abe.
The yen is the best-performing major currency this quarter amid a rush for havens from the turmoil stalking global markets. Options suggest there's an almost even chance of a gain to 115 per dollar by Dec. 31, a level the currency hasn't closed at all year and compared with 119.75 as of 11:47 a.m. in New York on Monday.
Buyers are attracted by Japan's current-account surplus, which makes it relatively immune to overseas shocks like China's surprise devaluation last month. Yet the stronger exchange rate is hampering Abe's efforts to address the nation's lackluster growth and falling consumer prices -- less welcome features of the economy which strategists say the prime minister and the Bank of Japan are running out of ammunition to combat.
"The yen's already quite undervalued against the dollar," said James Kwok, London-based head of currencies at Amundi Asset Management, which oversees more than $1 trillion. "The BOJ is approaching the limit in doing quantitative easing and so is expected to reserve its powder for a more serious market rout in the future."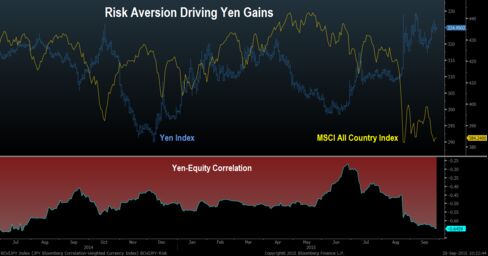 It all looked so different in the first half.
When Abe came to power at the end of 2012, he pledged to end 15 years of deflation, with the BOJ tasked to carry out an unprecedented program of monetary easing. This strategy, known as Abenomics, sent the yen on a more than two-year slide that ended with its drop to 125.86 per dollar on June 5, its weakest level since 2002.
It didn't last. The rout that gripped the riskiest emerging markets at the start of the year spread as concern grew that China's economy was slowing. Oil and stocks extended their plunge, currencies around the world tumbled to all-time lows -- and the yen surged.
Japan's currency has climbed 2.3 percent since June 30, on track for its first quarterly gain since the middle of last year. The worst-performing currencies have tended to be from nations reliant on exporting commodities.
The jump in Japan's exchange rate is making its effects felt. The world's third-largest economy has shrunk in four of the past seven quarters and core consumer prices fell last month for the first time since the BOJ started its asset purchases in April 2013.
There's about a 43 percent chance the yen will strengthen to 115 by year-end, up from 34 percent odds on Aug. 28. That exchange rate is significant because it may encourage the BOJ to expand its stimulus efforts, according to Mitsubishi UFJ Morgan Stanley Securities Co. and Bank of America Corp.
Raising Forecasts
The median forecast in a Bloomberg survey still puts the yen weaker by year-end, though some strategists are raising their predictions. Citigroup Inc. sees the currency at 121 per dollar by Dec. 31, compared with the 129 it foresaw in June. BNP Paribas SA strengthened its year-end target this month to 126 from 130.
"This is a period where uncertainty dominates the foreign-exchange market," said Osamu Takashima, a Tokyo-based strategist at Citigroup, the world's biggest currency trader. "Against such a backdrop, we cannot rule out downside risks for dollar-yen."
Global market turmoil has also supported Japan's currency by encouraging investors to unwind carry trades, where they borrowed and sold yen at the nation's low interest rates to buy higher-yielding assets.
Risk Ties
A comparison of the yen and global stocks shows how Japan's currency has become more inversely correlated to risk.
The 120-day correlation between the MSCI All Country World Index and a gauge of the yen versus its major peers reached minus 0.65, the strongest link since mid-2014. A reading of minus 1 would mean they were moving in exactly opposite directions.
The combination of a "very large" surplus and increasing risks for emerging markets means the yen has already passed its weakest point in the current economic cycle, said Joseph Capurso, a Sydney-based strategist at Commonwealth Bank of Australia, adding that "the next 10-yen move in dollar-yen is down, not up."
More Stimulus?
BOJ Governor Haruhiko Kuroda is facing growing skepticism he can buy enough bonds to reach his inflation targets as the potential supply dwindles. About two-thirds of economists surveyed from Sept. 7-10 predicted the central bank won't expand record stimulus until next year, if at all.
Vimal Gor, head of fixed-income at BT Investment Management Ltd. in Sydney, says he's been positioned for a stronger yen since it traded at about 124 to the dollar more than a month ago.
He predicts an advance to 113 in the next two to three months. While further BOJ easing is "inevitable," it probably won't come this year, he said.
Risk assets are "in for a continued period of turbulence," Gor said. "As the yen is a funding currency, when you get that weakness in risk assets, you tend to see strength in the yen."
Before it's here, it's on the Bloomberg Terminal.
LEARN MORE