Occupy Hong Kong Anniversary Reignites Debate on City's Election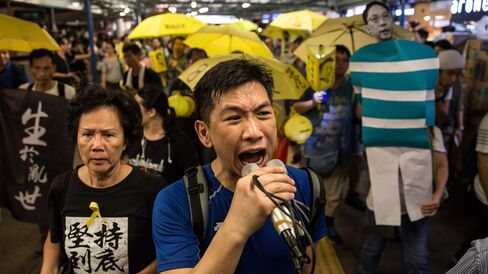 Monday's turnout a fraction of 2014's tens of thousands

Pro-democracy activists say the movement's lost its way
More than a thousand pro-democracy activists chanted slogans and held banners aloft at Hong Kong's downtown government headquarters Monday, railing against Chinese interference in the affluent city's affairs on the first anniversary of the "Umbrella Movement."
Monday's turnout however paled in comparison to the tens of thousands who braved tear gas, fought riot police and paralyzed the city's bustling downtown for 79 days in one of the most significant expressions of Hong Kong's desire to choose its own leader. Pro-democracy advocates said this week they had lost their appetite for confrontation after last year's campaign failed to bear fruit.
Since then, China and pro-democracy lawmakers and activists in Hong Kong have battled to a standstill over how to elect the city's leader, with a Beijing-sponsored bill defeated in the Legislative Council in June. Failure to compromise has fueled concern that China may abandon the system of self-rule that late paramount leader Deng Xiaoping granted the city for 50 years when the U.K. relinquished sovereignty in 1997.
On Monday, protesters milled around the central government complex close to the "Lennon Wall," where people shared their thoughts on the movement on post-its. Student leader Alex Chow delivered a speech to scattered applause and cheers. For hours, protesters waved banners requesting "real universal suffrage" while others lifted yellow umbrellas. Police broadcast requests for protesters to abide by the law, eliciting hisses and boos.
The number of protesters peaked at around 1,100, police duty officer Coleman Cheng said by phone.
"There should be more reflection on how we can improve the whole movement to really put more pressure on the government," said Crystal Wong, an 18-year-old student at Hong Kong University. "There are people who still won't show up because they think there is no hope for Hong Kong because of the strong force of China's political party."
Groups including the Civil Human Rights Front and People's Power had called for demonstrations on the anniversary of the Occupy Central protests, which became known as the Umbrella Movement when students sheltered under bright yellow parasols in clashes with riot police wielding pepper spray.
Lost, Confused
Others in the pro-democracy camp played down the possibility of another major protest akin to the demonstrations of 2014.
"The democratic camp feels lost and confused on which direction the movement should be headed," Chan Kin Man, an associate professor at the Chinese University of Hong Kong and a key organizer of last year's campaign, told broadcaster RTHK on Sunday.
The political rift with China has widened even as Hong Kong's economic ties with the mainland strengthen, from cross-border stock links and yuan-denominated bond sales to the millions of tourists who pack local shops and hotels.
Last year's protests kicked off after three student leaders including Joshua Wong were arrested for storming government headquarters on Sept. 26. Over the next two days, the clashes escalated after the police fired 87 tear gas canisters and used pepper spray in a failed attempt to disperse the growing crowd. Instead, more people took to the streets in anger as images of the confrontation were broadcast worldwide, leading to what was seen as the official start of the movement.
The Future
At its height, tens of thousands of people demonstrated, demanding that China drops what protest leader Benny Tai has said was an "undemocratic" demand to screen candidates for the chief executive election in 2017. Protesters blockaded main roads, pitched tents and lined pavements with artwork and banners. Over the next two months, talks with the government failed, and disagreements between protest leaders increased as public support faltered.
Just before Christmas, the police swept in and cleared the main protest area.
The tussle over Hong Kong's future, and the extent of self-rule for the city of 7.5 million, has continued to play out in meeting halls, in the press and on social media. Pro-democracy activists see evidence of the Chinese government's influence in everything from university appointments to media coverage, while accusing many of their fellow city-dwellers of apathy.
"I was expecting much more people to come," Christy Wong, an 18-year-old student at the Hong Kong Polytechnic University who took part in the movement last year. "Some people are still apathetic about the issue."
For more, read this QuickTake: Hong Kong's Autonomy
Before it's here, it's on the Bloomberg Terminal.
LEARN MORE