Cameron Seeks Refugee, Development Cash, Action on Syria at UN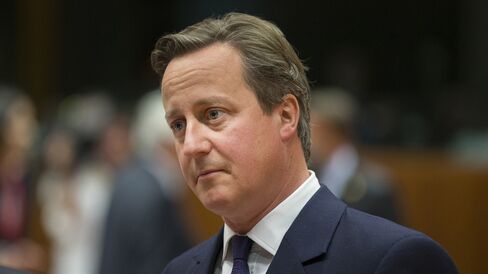 U.K. Prime Minister David Cameron will tell world leaders they should increase financial support for sustainable development and refugees when he addresses the United Nations General Assembly in New York Sunday.
Cameron, who has repeatedly said he wants to see Bashar al-Assad out of power, will also signal he would be happy for the Syrian president to stay in place temporarily if it smooths the transition to a more inclusive government to end the 4 1/2 years of conflict and upheaval in the country, his office said.
"The prime minister's priority is to work with other leaders on issues abroad that matter to our security and prosperity at home," Cameron's spokeswoman, Helen Bower, told reporters in London before the trip. "He wants to focus on the migration situation, the situation in Syria and how the world can take forward the sustainable-development goals and make sure no one is left behind."
Cameron has faced criticism from across the political spectrum for his reluctance to allow into the U.K. Syrian refugees who've been streaming into continental Europe. He'll use meetings with world leaders in New York to highlight the 1.1 billion pounds ($1.7 billion) Britain has spent on assistance to displaced Syrians in the Middle East and urge others to follow his lead.
He will also press for momentum to be injected into the political process to end the war in Syria, which has killed at least 250,000 people and sent millions into exile, his office said. The premier is due to meet with other leaders of the coalition against Islamic State on Tuesday.
Merkel Stance
The softening of Cameron's line on Assad mirrors the position of German Chancellor Angela Merkel, who said Thursday that there could be no solution without the Syrian president and talks would also have to include Russia and Iran. Russian President Vladimir Putin will also be at the UN.
Cameron, who was appointed in 2012 as co-chairman of the UN High Level Panel on global economic development after 2015, will seek to persuade fellow leaders to invest more in the developing world. He will place particular emphasis on the drive to eradicate "extreme poverty," promote gender equality and develop strong and accountable institutions, according to the prime minister's office.
He will continue the theme of development aid and the need for strong institutions when he travels to Jamaica and Grenada, former British territories in the Caribbean, after his meetings in New York.
Before it's here, it's on the Bloomberg Terminal.
LEARN MORE