Yellen Fails to Convince This $100 Billion Investor on Rate Move
Mitsubishi UFJ's Shimomura says December move a close call

Blanchflower sees Fed on hold, commenting before Yellen speech
Federal Reserve Chair Janet Yellen said she's ready to raise interest rates. The man who oversees $100 billion at Mitsubishi UFJ Kokusai Asset Management isn't convinced.
"She wishes to hike rates this year but I think there are a lot of problems, especially liquidity and the economic situation in emerging markets," said Hideo Shimomura, Mitsubishi UFJ's chief fund investor in Tokyo. "It's a close call. They may not even hike for the foreseeable future."
Futures contracts show the odds the central bank will raise interest rates at its Oct. 27-28 meeting are 20 percent, based on data compiled by Bloomberg. The figure is 47 percent for the Dec. 15-16 session. The calculation is based on the assumption the benchmark will average 0.375 percent after the first increase, versus the current target range of zero to 0.25 percent.
The benchmark U.S. 10-year yield increased three basis points, or 0.03 percentage point, to 2.16 percent as of 6:40 a.m. New York time. The 2 percent note maturing in August 2025 declined 10/32, or $3.13 per $1,000 face amount, to 98 18/32.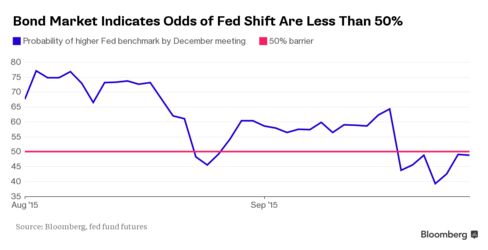 U.S. government securities have swung between gains and losses this week as traders tried to gauge the outlook for the Fed after officials ended a meeting last week by keeping their benchmark rate unchanged. Yellen said in a speech Thursday that most policy makers, including herself, anticipate increasing rates by year-end.
"Yellen wants the market to be prepared," said Kazuaki Oh'e, a debt salesman at CIBC World Markets Japan Inc. in Tokyo. "That's the message."
Slow Inflation
Mitsubishi UFJ's Shimomura isn't convinced. Besides liquidity and emerging markets, slow inflation is another reason for the central bank to hold off, he said.
The consumer price index has been close to zero all year, versus the Fed's target of 2 percent.
Traders have complained a lack of liquidity in bond markets in 2015 has increased volatility, after years of debt purchases by the Fed and other central banks has reduced the amount of available securities.
The declining pace of economic growth in China has raised concern the global expansion will slow. The MSCI Emerging Markets Index of shares fell 20 percent over the past three months.
Former Bank of England monetary policy committee member David Blanchflower said the Fed will probably stay on hold this year. Blanchflower, a professor at Dartmouth College in Hanover, New Hampshire, spoke in an interview with Bloomberg on Thursday prior to Yellen's speech.
"I see no reason to believe that anything has fundamentally changed since last week," he said. "It looks that the chance of a 2015 rate raise is slim to none."
(An earlier version of this story corrected the data series in the chart.)
Before it's here, it's on the Bloomberg Terminal.
LEARN MORE