Treasury Yield Gap Nowhere Near Signaling U.S. Stock Recovery
Spread between two-year, 10-year notes narrows this year

Convergex: `Hard to see equity-market valuations improve'
Investors may be unwilling to pay more for U.S. stocks any time soon if a bond-market signal is any guide, according to Nicholas Colas, chief market strategist at Convergex.
The chart below highlights Colas's indicator, the gap between yields on two-year and 10-year Treasury notes. Ten-year debt yielded 144 basis points more as of yesterday, according to data compiled by Bloomberg. Each basis point is equivalent to 0.01 percentage point.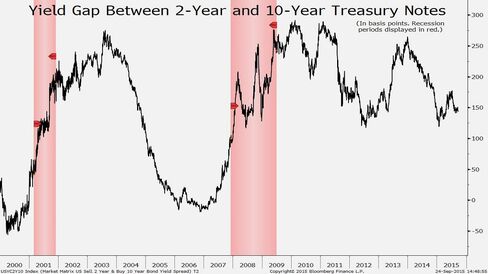 Wider spreads point to faster economic and earnings growth and vice versa, Colas wrote yesterday in a report. The gap narrowed by 114 basis points last year. This proved to be "a remarkably good indicator" of this year's tepid expansion and disinflation, the New York-based strategist wrote.
Currently, the indicator is sending a caution signal on stocks, he wrote. The two-year/10-year spread was 6 basis points narrower yesterday than at the end of 2014 after widening as much as 27 basis points earlier in the year.
"It is hard to see equity-market valuations improve" until the spread widens further, according to Colas. The move may occur because the two-year yield drops as the Federal Reserve holds interest rates steady, he wrote, or because the 10-year yield rises in response to a brighter economic outlook.
"Either way, this is the one bond-market indicator to watch in coming weeks," he wrote.
Before it's here, it's on the Bloomberg Terminal.
LEARN MORE