Kazakhstan, Russia Buy More Gold as Mexico Cuts, IMF Data Show
Governments seeking to diversify reserves, according to ANZ

Central-bank buying seen by Capital Economics helping prices
Kazakhstan increased its gold reserves for a 35th month in August as Russia and Belarus also expanded their holdings, according to data published by the International Monetary Fund.
Kazakhstan purchased about 2.1 metric tons to take its stash to about 210.2 tons last month, while Russia boosted holdings to 1,317.7 tons from 1,288.2 tons in July, data on the IMF's website showed. Belarus expanded its reserves to 47.1 tons as Mexico cut them for a 14th month, the figures showed.
Russia, Kazakhstan and Belarus are buying gold along with China as global prices sink for a third year amid prospects for the first increase in U.S. interest rates since 2006. Once the Federal Reserves tightens, bullion may rally, according to Capital Economics Ltd., which cites sustained central-bank buying as among the reasons that it's bullish. In August, the metal climbed 3.6 percent as a devaluation of the Chinese currency and a rout in global financial markets spurred investors to purchase haven assets.
"They have been diversifying holdings away from the dollar for years," said Victor Thianpiriya, a Singapore-based analyst at Australia & New Zealand Banking Group Ltd., referring to central banks in general. "These countries are still thinking the same way: less exposure to U.S. dollar holdings."
Reserve Currencies
Many central banks remain exposed to a small number of key reserve currencies and look to gold as a hedge against volatility, according to the World Gold Council. China has less than 2 percent of its foreign reserves in gold, compared with 73 percent for the U.S. and 67 percent for Germany.
China, which rivals India as the biggest gold consumer, said Aug. 14 it increased holdings to about 1,677 tons in July. That update came almost a month after the People's Bank of China ended six years of mystery surrounding its reserves, revealing a 57 percent jump in gold assets since 2009 and overtaking Russia to become the fifth-largest holder.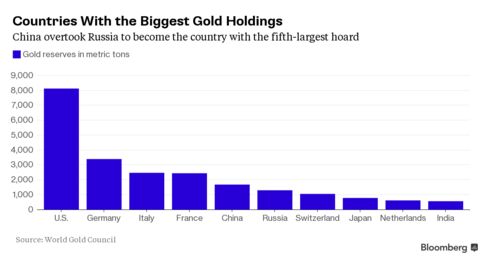 While central banks have been buying, investors have cut assets in bullion-backed exchange-traded funds to near the lowest since 2009. Prices have lost about 40 percent from a record in 2011 and are trading near the lowest level in more than five years, with spot bullion at $1,148.50 an ounce on Friday.
Before it's here, it's on the Bloomberg Terminal.
LEARN MORE