Singapore Shuts Schools as Air Quality Hits Hazardous Level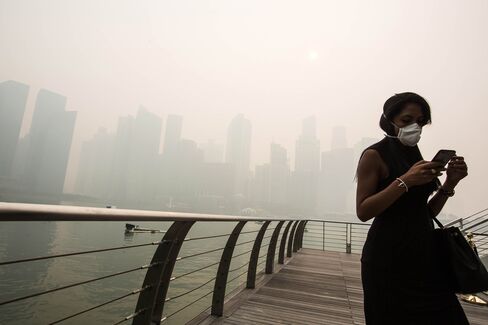 Singapore will close its primary and secondary schools today as the haze from Indonesian forest fires pushed air quality into the "hazardous" range for the first time this year, covering the city-state with a layer of smog.
The three-hour pollutant standards index hit 341 as of 5 a.m. Singapore time on Friday, according to the National Environment Agency, the highest level so far in 2015. A reading exceeding 300 is classified as "hazardous," where the public is advised to minimize outdoor activities.
A nationwide music test has also been postponed until Tuesday, the Ministry of Education said. Some international schools including the Swiss School in Singapore will also be shut today. Junior colleges and universities will remain open.
The smog also led the city-state to cancel outdoor events in the past month and flights were diverted across Southeast Asia. Indonesia's enforcement of its laws against plantation owners is key to resolving the haze that has covered parts of Southeast Asia in the past few weeks, Singapore's Environment Minister Vivian Balakrishnan said last week.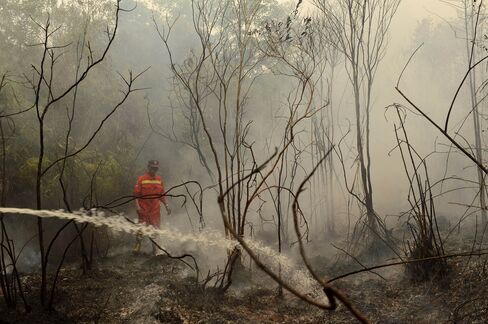 "This is the first time I'm experiencing the haze first-hand. Today it really has worsened, you feel that," said Gokulnath Durai as he walked along the Singapore River wearing a face mask yesterday, which the tourist from Chennai, India said was "a precautionary measure."
Distributing Masks
Singapore will also distribute N95 masks to "vulnerable and needy" citizens and permanent residents across 108 community clubs on Friday, the environment agency said.
Indonesia last week set a 14-day deadline to extinguish fires in Riau, and a 30-day target for South Sumatra and Jambi. The government has detained suspects in companies in various parts of the country.
"This haze is a rather sad thing," said Hungarian tourist Gabor Albert, who was visiting the city with his wife Katalin for three days. ''We heard that this haze has been going on for a couple of years and that it always lasts six to seven weeks.''
Before it's here, it's on the Bloomberg Terminal.
LEARN MORE