Russia Seen Testing Wide Policy Mix to Fix Budget Hit by Oil
Survey shows Russia may resort to combination of policies

Slumping oil prices dent budget revenue, force adjustment
Russia's biggest budget crisis in years is leaving the government stumped as it debates a range of options to steady public finances, from spending cuts to higher oil taxes. The choice may be to select all of the above, according to economists surveyed by Bloomberg.
Rather than opting for a narrowly tailored solution, the cabinet will resort to a wider range of measures that may also include increased borrowing and a freeze on pension-fund contributions, according to 18 of 23 economists in a Sept. 18-23 survey. The deadline for submitting the budget to lawmakers is Oct. 25.
Millions of Russians are sinking into poverty as the collapse in crude prices drags down the economy of the world's biggest energy exporter, sends the ruble into a tailspin and crimps budget revenue. Facing the widest fiscal gap in five years, the government is locked in a debate that's pitting some officials, led by the Finance Ministry, against the oil industry and cabinet members opposing deeper austerity amid the country's first recession since 2009.
"Moscow is split on how to deal with all the holes in the budget," Wolf-Fabian Hungerland, an economist at Berenberg Bank in Hamburg, Germany, said by e-mail. "Assistance of various types will be scrutinized as well. Raising taxes for oil producers is also possible."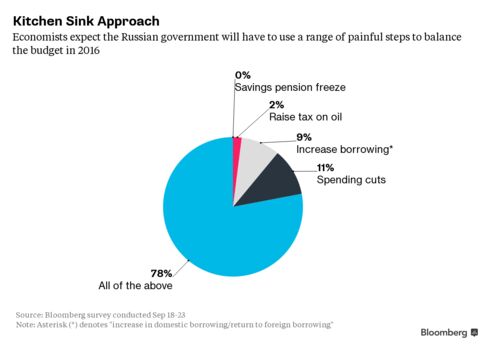 President Vladimir Putin instructed the government this week to study the possibility of tapping into some of the gains reaped by exporters from ruble devaluation. The proposal by the Finance Ministry has sent Russian stocks tumbling, led by the nation's biggest oil and mining companies.
The Micex Index is headed for its first advance in seven days following its longest streak of losses in more than a year. The benchmark gauge gained 1.3% as of 1:26 p.m. in Moscow. The ruble traded 0.6 percent stronger against the dollar.
The issue of raising the oil extraction tax is "being discussed, and there are different points of view," Kremlin spokesman Dmitry Peskov told reporters on a conference call Friday. The government will report to the president after reaching a position, he said.
'Good Initiatives'
The tax proposals are "good initiatives as they can help transfer funds from mature and maybe not-quite-effective sectors to new, developing projects," said Olga Lapshina, head of research at Bank Saint-Petersburg PJSC. "The initiative can help find money for increasing the share of government investments in total budget expenditures."
The government, which relies on oil and gas for almost half of its revenue, is drafting next year's budget by assuming a deficit under 3 percent at an average oil price of $50 a barrel. Unlike this year, when it plans to use more than half of the Reserve Fund, or as much as 2.7 trillion rubles ($40.8 billion), to cover the fiscal gap, Russia can't continue to rely only on its wealth funds in 2016, according to Finance Minister Anton Siluanov.
The stockpile, which had $70.7 billion in dollar terms on Aug. 31, will run as low as $30 billion between now and the end of 2016, according to the median of 21 estimates in the survey.
Budget Changes
Any further fiscal adjustments will come on top of changes that already include decisions to shorten the government's budget-planning horizon to one year, from three, for 2016 and suspend a rule that capped public spending based on average long-term oil prices.
After spending cutbacks this year, the Finance Ministry has suggested further reductions, including in pension adjustments to 4 percent, and an increase in the retirement age. That's resisted by some cabinet members pushing to raise retirement pay in line with inflation, which Deputy Finance Minister Maxim Oreshkin last week estimated to be "a little more" than 12 percent this year. Another proposal is to divert savings from future retirement plans for a third year to meet budget needs.
Before it's here, it's on the Bloomberg Terminal.
LEARN MORE