Putin Really Called Elton John This Time, Kremlin Says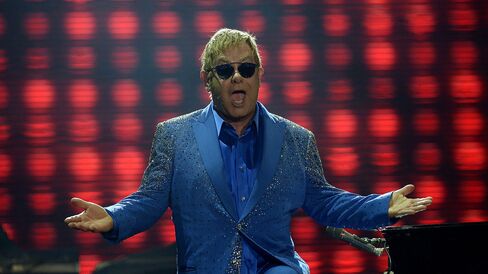 Russian president offers to meet singer after prank call

John didn't believe contact was real at first, Kremlin says
Russian President Vladimir Putin spoke to Elton John and invited him to a meeting after the British singer fell victim to a prank phone caller who pretended to be the Kremlin leader.
Putin asked John on Thursday not to be offended by the hoax call and said he's ready to meet him to discuss any subject, Kremlin spokesman Dmitry Peskov told reporters during the president's visit to the Rostov region in southern Russia. The singer initially didn't believe the offer was real when the Russian ambassador in London, Alexander Yakovenko, approached him, Peskov told reporters later on a conference call.
The diplomat "at first had some difficulty in explaining that he was the real Russian ambassador and that the real president of our country wants to speak" to John, Peskov said. The "diplomacy of our ambassador" eventually persuaded the singer and the phone call was arranged, he said.
John was caught out last week by two Russian comedians who tricked him into believing that Peskov had called from the Kremlin and connected him to Putin after the singer said he'd like to discuss Russia's "ridiculous" stance on gay rights with the president. They aired a recording of the 11-minute conversation on Russian television.
Sympathy Gesture
Putin decided to contact John as a gesture of sympathy after the incident, Peskov said. The joke was carried out by "harmless people, although this of course does not justify their prank," he said, according to the Interfax news service.
The hoax emerged after the Kremlin denied any conversation had taken place when John thanked Putin on his Instagram page for "reaching out" to him, saying he looked forward to "meeting with you face-to-face to discuss LGBT equality in Russia."
John said on Instagram after the incident that he was "happy to be pranked" if it raised the issue of homophobia and that "my offer to talk to President Putin about LGBT rights still stands." He has criticized a 2013 Russian law that punishes individuals and organizations that spread "gay propaganda" among young people.
Gary Farrow, spokesman for Elton John at The Corporation agency in London, declined to comment when contacted by phone about the Kremlin's call.
Before it's here, it's on the Bloomberg Terminal.
LEARN MORE