These Charts Tell the Story of Brazil's Economic Turmoil
Borrowing costs have surged as the currency drop picks up pace

`All the sources of growth in Brazil have disappeared'
The selloff in Brazilian assets has picked up pace as President Dilma Rousseff fends off impeachment speculation less than a year into her second term and struggles to win lawmakers' support for measures to shore up the nation's accounts.
"What is really amazing about it is the speed of the deterioration since the election," says Geoffrey Dennis, the head of global emerging-market strategy at UBS Securities. "All the sources of growth in Brazil have disappeared."
Brazil's domestic turmoil couldn't come at a worse time. Emerging markets around the world are declining on speculation that slowing growth in China will damage the global economy and that an increase in U.S. interest rates will lure capital away from developing nations. Still, Brazil's decline has been more pronounced.
The currency is the best example of the speed of the deterioration. On Wednesday, it slumped as low as 4.179 per dollar, the weakest since its introduction in 1994. Its 36 percent plunge this year is the worst among 31 major currencies tracked by Bloomberg.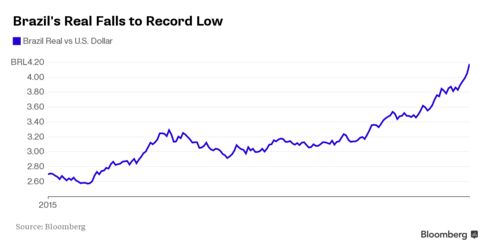 The troubles are also reflected in borrowing costs. Swap rates, a gauge of expectations on local interest-rate moves, have jumped.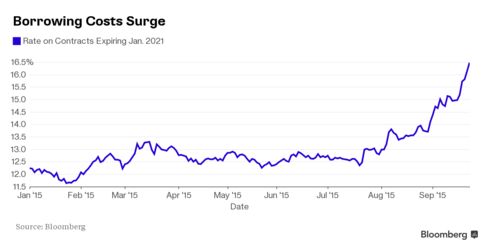 Part of the pessimism is driven by the outlook for growth. Median estimates began the year at a 0.4 percent expansion, but economists are now expecting a 2.7 percent contraction, with the slump continuing into 2016.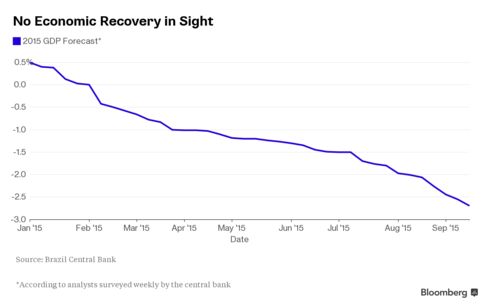 As growth evaporates, inflation keeps accelerating.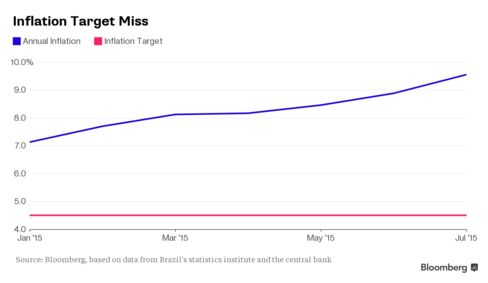 Bond risk keeps rising. Credit-default swaps have jumped to 470 basis points, more than double the 200 basis points seen in January. Mexico, as a comparison, stands at 155 basis points.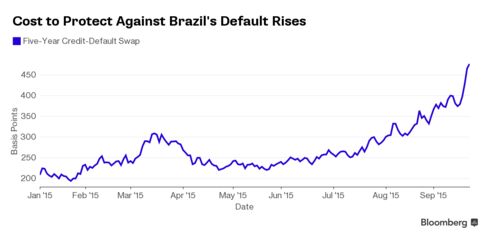 While the Ibovespa stock benchmark has also dropped, exporters such as Fibria Celulose SA are getting a boost from the decline in the currency, easing the slump.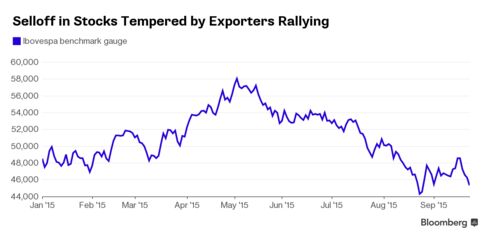 Before it's here, it's on the Bloomberg Terminal.
LEARN MORE