Tinkoff Raised to Hold at Uralsib as 48% Plunge Deemed Excessive
Analyst cites Russian bank's increased loan-growth forecast

14-day RSI approaches 30, level some analysts see as oversold
TCS Group Holding Plc, the Russian lender that has lost almost half its value from this year's high, has slid too far, too fast, according to Uralsib Capital, which withdrew its sell rating on the stock.
The holding company, whose main subsidiary is Tinkoff Bank, has tumbled 48 percent to a record-low $1.70 in London since Uralsib cut it to sell in early June as a weakening ruble and signs that the country's economic contraction was worsening prompted investors to backpedal from Russian assets. Analyst Natalia Berezina raised the stock to hold on Wednesday, saying its "depressed levels" no longer justify the bearish recommendation.
"The negative factors weighing on Tinkoff Bank are still there, but the share decline has been excessive, and under our base-case scenario the potential for a further downside is exhausted," Berezina said by phone from Moscow on Wednesday. "There is a growth potential in the lender's loan book, and the increase in the loan-growth forecast is a positive surprise."
TCS Group, which along with most Russian lenders has been squeezed by high borrowing costs, a slumping ruble and an economy in the midst of its first recession since 2009, saw its revenue and profits shrink in the first half of 2015 from a year earlier. The company last month raised its forecast for loan growth and reiterated its forecast to end 2015 with a profit.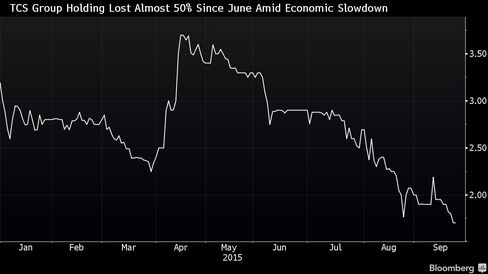 Consumer Loans
International sanctions linked to the Ukraine conflict, including restricted access to capital markets in the U.S. and Europe, have crimped the nation's banking industry, while the shrinking economy is eroding wages, disposable income and consumer lending. On a scale from 1 to 5, TCS Group has a consensus rating of 2.4, the second-lowest among 11 global peers, data compiled by Bloomberg show.
Policy makers in December pushed the key interest rate up 6.5 percentage points to 17 percent to stem the ruble's 46 percent plunge in 2014. The Bank of Russia has since decreased it to 11 percent before dropping the commitment to continue lowering borrowing costs as the ruble resumed its decline and the pace of inflation increased to almost four-fold policy makers' mid-term target.
TCS Group, which has issued 5 million credit cards with market share of 6.7 percent, said in August its cost of risk dropped to 16.6 percent in the second quarter from 17.9 percent in the first quarter. The lender, which earlier this year bought two credit card portfolios from ZAO Svyaznoy bank, said it will post a profit of as much as 1 billion rubles ($15 million) in 2015.
The stock has plummeted 90 percent from an initial public offering price of $17.50 in 2013. Its 14-day relative-strength index was 31.7 on Wednesday, near the level of 30 that some technical analysts see as an indication a security is poised to rise.
The Bloomberg Russia-US Index of the most-traded stocks in the U.S. slid 1.7 percent to 47.47 in New York on Wednesday. The Market Vectors Russia ETF, the largest exchange-traded fund tracking the nation's stocks, fell 2.2 percent to $15.37. Futures contracts on the RTS Index expiring in December dropped 0.4 percent to 77,020 in U.S. hours.
Before it's here, it's on the Bloomberg Terminal.
LEARN MORE