The Fed Is a Lot Closer to Its Target Using This Inflation Measure
The trimmed mean measure mimics Olympic ice-skating scoring to arrive at its inflation readings
Inflation looks more stable — and a lot closer to the Federal Reserve's 2 percent target — according to a price gauge favored by some policy makers.
Developed by the Dallas Fed, the trimmed mean measure seeks to sort through noise caused by the monthly ups and downs of prices to arrive at a more accurate reading of underlying inflation, according to Jim Dolmas, senior research economist at the bank.
To do that, Dallas Fed researchers follow a procedure akin to that used in scoring ice skating at the Olympics, where the highest and lowest marks a routine earns from the judges are excluded from the final tally. In the case of the trimmed mean, that means discarding items from the calculation of inflation that have shown the biggest and smallest price gains during the month.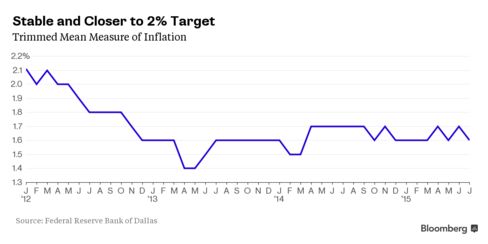 San Francisco Fed President John Williams, in a Sept. 19 speech, called the trimmed mean his "favorite measure" of inflation. His colleague, St. Louis Fed President James Bullard, also has pointed to the gauge in recent days in making the case for the Fed's first interest-rate increase since 2006.
Fed Chair Janet Yellen told lawmakers on Feb. 24 that the trimmed mean was one of a variety of measures that policy makers look at in trying to judge the underlying trend in inflation.
Looking at the gauge specifically targeted by the Fed, which is based on consumer spending, inflation was a mere 0.3 percent higher in July than 12 months earlier and has been below the central bank's 2 percent objective for more than three years.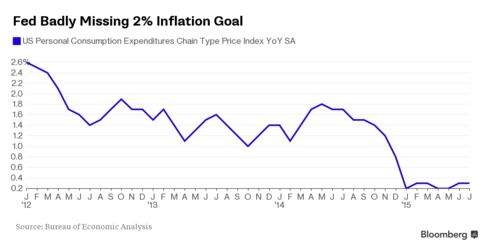 Whenever that index and the trimmed mean diverge, as they are now, the former eventually ends up gravitating toward the latter, rather than the other way around, Dolmas said.
With the Dallas Fed's inflation measure at 1.6 percent and unemployment at 5.1 percent, the Fed is "about as close as we have been to our goal variables in 50 or 60 years," Bullard said in a Sept. 21 television interview with CNBC.
"The case for policy normalization is quite strong," he added.
Before it's here, it's on the Bloomberg Terminal.
LEARN MORE