Reeling From 'American Idol' Downfall, Fox Turns to Horror
Comedy `Scream Queens' is Fox's marquee new show this season

`Glee' creator tapped to build on success of `Empire'
When Dana Walden and Gary Newman assumed control of the Fox broadcast network in July 2014, their first call was to Ryan Murphy, a creator of "Glee" and "American Horror Story."
Walden and Newman hoped Murphy would help them revive a network that once dominated the ratings with "American Idol" and has struggled to find consistent hits since that show's popularity sagged. With "Scream Queens," Murphy's horror comedy that made its debut Tuesday night, they will soon find out if they were right.
"If you want to make a statement, to do a show that feels unique and bold, by and large Ryan is going to deliver that," Newman said in an interview.
In their first season, Newman and Walden put important building blocks in place with "Empire," the most popular new show on TV, and more modest successes "Gotham" and "The Last Man on Earth." Even so, Fox's prime-time audience fell 16 percent, the steepest drop of the four networks. Entering their second year, the pair are betting on five new shows in the fall led by "Scream Queens" to put Fox on firm ground for good.
"We developed a lot of momentum last year, and are returning three shows that were popular," Newman said. "It's important in season two that we keep up that momentum."
Underscoring the importance of its investment, Fox is devoting four hours of prime time this week to "Scream Queens" -- two hours Tuesday for the debut episodes and two hours Thursday for repeat viewings. Next week, the show will settle into its regular time of 9 p.m. on Tuesdays, following two comedies starring hunky, middle-aged men (John Stamos and Rob Lowe).
Murphy and co-creator Brad Falchuk conceived "Scream Queens," a murder mystery set at a fictional college, while working on FX's "American Horror Story." Both Fox and FX are owned by Rupert Murdoch's 21st Century Fox Inc. Like "Empire," the new show blends big stars, Jamie Lee Curtis and Emma Roberts, with a genre -- horror -- that's unusual for broadcast television.
"There is a great sort of whodunit quality to the show that we like, which is what I think people need now, particularly with network, a reason to show up every week," Murphy said at a presentation to television critics in August.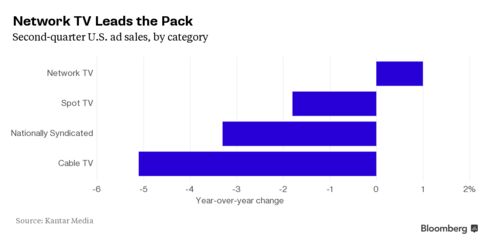 With competition fierce for viewers' attention, Fox executives have been laying the groundwork for the show since last year. Based on its confidence in Murphy, it committed to the series before there was a pilot.
The marketing team released snippets of the show in February that established the tone and relied on the popularity of stars like Roberts.
"Scream Queens" is the most talked about new show on social media, according to ListenFirst Media, and one of two Fox series in the top 10, alongside "Empire."
That didn't translate into a massive audience for the show's premiere. "Scream Queens" drew 4 million viewers, the second-lowest total of any program on the four broadcast networks Tuesday night.
"Scream Queens" fared better among young viewers, particularly female ones, which Fox said was an indication that the audience would grow over time. More than 10 million people will watch the premiere across all platforms, the network projected.
There's a lot at stake. "Empire," a hip-hop drama starring Taraji P. Henson and Terrence Howard, created an event-like atmosphere with each new episode last year and drew huge audiences.
The show, which makes its season debut on Wednesday, will command among the highest ad prices of any series on television this season. Gaude Paez, a spokeswoman for Fox, declined to comment on pricing.
While "Scream Queens" isn't likely to be as popular as "Empire," the returning show could help build momentum for the new programs on Fox's schedule.
"Fox is trying to find something," said Brad Adgate, senior vice president of research at Horizon Media, an advertising agency. "Empire is a show they can build around."
Newman and Walden will air "Rosewood," a medical procedural also about affluent black Americans that should appeal to women, immediately before "Empire." They have also paired "Minority Report," a new science-fiction show based on the Steven Spielberg movie, with "Gotham," another male-skewing show.
Fox needs fresh hits. "American Idol," the top show on television for most of the past decade, will begin its final season in January. Though "Idol" still ranks among the most-watched programs on Fox, its ratings have tumbled in recent years.
"No show has been more important to a network in the history of TV than 'Idol' to Fox," Adgate said. "Now they have to have a different strategy."
Fox's most recent attempt at a reality show, "Utopia," was an unqualified disaster. The network canceled the $50 million "social experiment" after two months due to anemic ratings.
This year, Walden and Newman are investing in serialized dramas and comedies, mostly from their own production studio. They are rebooting "The X-Files," a cult hit from another generation that makes its debut in January. The network will also air its first live musical, a modern rendition of "Grease."
"Any one show that's a tremendous hit can help turn the fortunes of a network around," said Chris Geraci, president of national broadcast at Omnicom Media Group, a media buyer.
Before it's here, it's on the Bloomberg Terminal.
LEARN MORE