Pimco Forecast for Quicker Inflation Clashes With Bond Market
Short-term Treasury prices `have overshot' Fed rate plans

Bonds decline amid weak demand at floating-rate note sale
Pacific Investment Management Co. says U.S. inflation will pick up -- at a time when the Treasury market is signaling the opposite.
Investors should brace for inflation gains and the prospect that the Federal Reserve may raise interest rates more quickly than forecast, according to Pimco, which runs the world's biggest actively managed bond fund.
"Markets are probably pricing insufficient tightening by the Fed, based on our baseline forecast of above-potential growth and inflation getting back to the Fed's 2 percent target over the next four quarters," Richard Clarida, Pimco's global strategic adviser, and Andrew Balls, the chief investment officer for global fixed income, said in a report Tuesday.
It's another story in the bond market. The difference between yields on one-year debt and similar-maturity Treasury Inflation Protected Securities, a gauge of expectations for consumer prices, fell to minus 1.84 percentage points, the lowest closing level since February 2009, indicating investors are bracing for prices to fall in the next 12 months.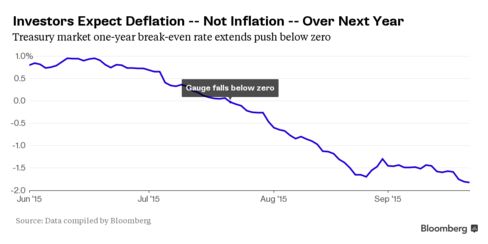 The debate over the outlook for prices is intensifying after the Fed surprised some investors by keeping its main interest rate unchanged at a meeting last week. The central bank cited downward pressure on inflation as it decided to extend its almost seven-year run of record-low borrowing costs. Fed Chair Janet Yellen is scheduled to speak Thursday on inflation and monetary policy.
Treasuries declined Wednesday, as the benchmark U.S. 10-year yield rose two basis points, or 0.02 percentage point, to 2.15 percent as of 5 p.m. New York time, having dropped as much as three basis points earlier. The 2 percent note due August 2025 fell 1/8, or $1.25 per $1,000 face amount, to 98 19/32.
"It's still people waiting for the next key goalpost, and then we keep waiting for the next one after that," said Gennadiy Goldberg, a New York-based U.S. rates strategist with TD Securities. "The next key points are Yellen and the domestic data. Right now, we're really taking our cues from global growth and sentiment, which is really volatile."
Note Auctions
Yields on the part of the U.S. Treasury curve that are most sensitive to a Fed increase remain stubbornly low. Treasury two-year yields fell by the most in six years after the central bank held interest rates unchanged last week.
"Those prices have overshot," Clarida said in an interview. "There will be a liftoff. At the very front end of the U.S. curve, you are not compensated fully for that liftoff probability."
Investors submitted the fewest bids ever at the Treasury's $13 billion offering of two-year floating-rate notes as they shunned the government's most illiquid marketable securities that are meant to provide a hedge against rising interest rates. The U.S. also sold $35 billion of five-year notes at a yield of 1.467 percent, compared with 1.463 percent at last month's sale.
Inflation Expectations
Inflation will accelerate as the effects of falling oil prices and the stronger dollar fade, according to Pimco. Treasury Inflation-Protected Securities are attractive, Clarida and Balls wrote. A rising greenback makes it cheaper for Americans to buy goods from abroad.
The U.S. consumer price index has been close to zero all year. Pimco expects economic growth in the range of 2.25 percent to 2.75 percent over the next four quarters and CPI inflation of 1.75 percent to 2.25 percent.
TIPS have handed investors a loss of 0.9 percent in 2015, versus a 1.4 percent return for conventional Treasuries, according to Bank of America Corp. data.
Traders are pricing in a 41 percent probability of the U.S. central bank raising the benchmark rate by its December meeting, compared with 64 percent before the Fed's latest policy decision on Sept. 17. That's based on the assumption that the effective fed funds rate will average 0.375 percent after the first increase.
Before it's here, it's on the Bloomberg Terminal.
LEARN MORE