Phone Stats Unlock a Million Loans a Month for Africa Lender
Cape Town micro-lender uses call history, discards interviews

Emerging-markets digital disruptors invading bank territory
Before receiving a small loan in Tanzania that started two businesses, Martin Mathews didn't meet bank officials, show his ID or call anyone about his funding needs. His mobile phone stats were all one lender needed to know.
JUMO, the micro-financing unit of Cape Town-based AFB Pty Ltd., analyzed the 25 year old's mobile usage and predicted he was likely to repay the debt. The company builds a picture of its customers from thousands of data points in calling records, ranging from who they've phoned to airtime and data purchases and other mobile transactions. The information it collects has helped it increase lending to almost 1 million loans a month of less than $200 across eight African countries, Managing Director Johan Bosini said.
"What makes us different?" Bosini said in an e-mailed response to questions. "We make credit decisions based entirely on mobile network data. How many calls you make, who are you calling, when you're calling, how much airtime are you using, where are you topping up, what kind of phone you have, whether you SMS or not. We have 10,000 variables for any individual."
Bosini's company is a part of a growing trend of financial technology start-ups in emerging markets such as Africa, India and China that are taking business away from traditional banks in the areas of credit, savings and insurance. They use the one piece of infrastructure they can count on: mobiles, and reduce expenses by going directly to the consumer for loans and deposits, without branches.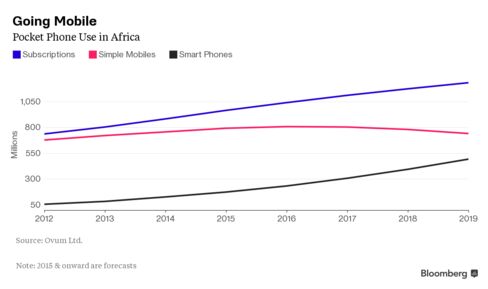 JUMO's approach differs many other micro-finance institutions, which would do the traditional banking checks or rely on community information in the absence of paperwork or documents, Thecla Mbongue, a senior research analyst at technology research and advisory firm Ovum Ltd., said by phone in Johannesburg.
"This is an innovative way of targeting lower income segments, especially in Africa where a lot of people are unbanked and earn informally," Mbongue said. "They wouldn't qualify for loans in a traditional bank because they can't produce statements or bills."
JUMO's market is entrepreneurs who need capital, as little as a few dollars, to get businesses rolling like Mathews' cashew sales and chip wagon. In the early days after JUMO started in 2012, more than half of loans weren't repaid, Bosini said. The company doesn't chase defaulters and lends off its own balance sheet because "no bank was crazy enough to give us the money in the first place,'' he said.
Now, the non-performing loan rate is down to 4 percent after the firm tightened its analysis of customer risk. It has 3.5 million users in South Africa, Kenya, Tanzania, Ghana, Zambia, Mauritius, Uganda and Rwanda. JUMO operates in the ether like the digital wallets offered by PayPal Holdings Inc., PayTM Mobile Solutions Pvt. in India and Alibaba Group Holding Ltd. in China. At the same time, customers can withdraw cash through an agent such as a convenience store.
"We've done 30-cent loans profitably,'' Bosini said. "It's all about getting your costs and administration paper thin." Interest rates are risk-based, varying between countries, but start at 10 percent, he said. "It is changing as we learn more through the data."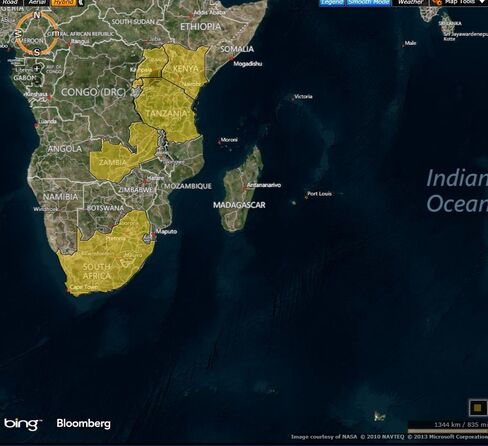 JUMO is popular with its mobile partners because it brings them about $10 million a year in revenue, Bosini said. Bharti AirTel Ltd., MTN Group Ltd. and Millicom International Cellular SA increase income per customer through a fee of $1-$2 on each transaction as e-wallet deposits bounce around the system, he said.
Regulators like the inclusive aspect of the service because it's available on the simplest mobiles, handsets used by 70 percent to 90 percent of the target market, he said. JUMO taps the part of the population that isn't formally educated, often neglected by banks, even though the percentage of educated Africans is increasing at a much slower rate than the poor and unschooled segment, Bosini said.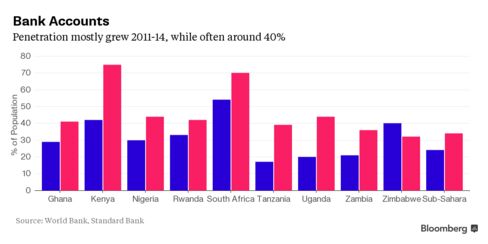 "We don't fear the disruption, we actually embrace it because it's a very good thing for Africa, and reaching the 80 percent who are unbanked," Ashley Veasey, chief investment officer for Barclays Africa Group Ltd., said by phone from Johannesburg. "Our competitors are the fintech start-ups, technology companies and retailers, all of whom are aggressively pursuing the lending and payment space and are taking a lot of market share from traditional banking organizations."
Standard Bank Group Ltd., the continent's biggest lender by assets, has doubled mobile investment in two years and will roll out a new system with more services by the end of 2016, Magnus Taljaard, the lender's head of mobile, said by phone in Johannesburg.
"We certainly see mobile as an absolute key part of our digital strategy, as a way to get a lot closer to the customer because they have the phone with them all the time," Taljaard said. "Fintech companies haven't really entered the mainstream yet."
JUMO will start to take deposits in Ghana and Zambia by mid-2016 and is preparing to secure the approvals needed to offer those services and to sell insurance, Bosini said. "We are happy to be regulated," he said. The company is also considering Indonesia, where the leading mobile network owned by Telekomunikasi Selular PT has 160 million customers, he said.
Not all risks were eliminated since work by JUMO's code writers tightened the loan-loss rate. A scam artist once studied its loan-approval patterns for several months, using 30 different simcards to generate data sets and deciphering the lender's algorithms. He fleeced the firm of $30,000 in one day and then vanished.
"We're still looking for him,'' Bosini said. "We want to offer him a job.''
Before it's here, it's on the Bloomberg Terminal.
LEARN MORE