Petrobras Riskier Than Argentine Peer Shows Confidence Collapse
Brazilian producer yields more than lower-rated rival YPF

YPF benefiting from expectation for policy change in Argentina
To see the damage done to bondholders of Brazil's flagship oil company, just compare its yields to those of its lower-rated peer across the border in default-prone Argentina.
The rout in notes from the world's largest junk-rated corporate issuer means Petroleo Brasileiro SA's borrowing costs are now higher those for YPF SA, the oil company that Argentina nationalized in 2012. The extra yield investors demand to own Petrobras securities due in 2024 instead of similar-maturity notes from YPF jumped to a record 1.72 percentage points Tuesday. A year ago, YPF bonds were yielding 3 percentage points more.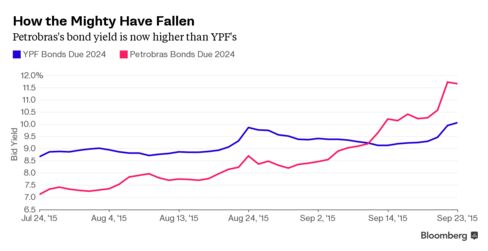 The world's most-indebted major oil producer had its credit rating chopped to junk by Standard & Poor's earlier this month after losing its investment grade by Moody's Investors Service in February. Moody's still rates Petrobras as Ba2, five levels above YPF. The Brazilian producer, which has $56 billion of outstanding securities, saw its bonds drop to record lows Tuesday as a slump in commodity prices deepened pessimism about the company already embroiled in the country's biggest corruption scandal amid allegations its officials received bribes in exchange for work contracts.
"Petrobras's selloff is because the company was downgraded, like Brazil, and there is a mass sale from people cutting exposure," Danilo Onorino, a portfolio manager at Dogma Capital SA that holds Petrobras bonds, said by telephone from Lugano, Switzerland. "There are no buyers."
YPF is benefiting from speculation that October elections will usher in a new government that can lure fresh foreign investment, as well as domestic policies that have guaranteed it receives at least $77 for each barrel of oil it pulls out of the ground even as the commodity trades near $45 a barrel in international markets.
Before it's here, it's on the Bloomberg Terminal.
LEARN MORE