Hollande Wrongfooted on Refugee Surge, Fearing Le Pen's Rise
France plans to take in 30,000 migrants, fraction of Germany

Hollande has displeased his base and opponents on the issue
As Europe searches for a solution to the migrant crisis, French President Francois Hollande is in his customary position: stuck in the middle and pleasing few.
The Socialist leader finds himself playing second fiddle to German Chancellor Angela Merkel in the unfolding drama as European Union leaders meet Wednesday to seek a way out of their impasse on how to cope with thousands of migrants knocking on the region's gates. France's acceptance of migrants has been overshadowed by greater generosity shown next door by Germany.
"The government is fearful of doing anything that would benefit the anti-immigration right," said Francois Gemenne , researcher at Sciences Po University. "At the same time, they have intellectuals in the press and much of their base saying that France, the nation of human rights, looks ridiculous next to Germany. The government doesn't know what foot to dance on. They've ended up with a policy that satisfies no one."
That mirrors much of what Hollande has done in his three years in office. On the economy, his socialist base feels he has sold out by recent moves to liberalize labor markers and ease rules for business, while conservative parties pillory him for raising taxes. Hollande's approval rating fell one point to 24 percent in September, according to the most recent Ifop poll.
Hollande and Merkel on Sept. 4 jointly urged the EU to agree on a redistribution plan for refugees and to speed up processing in countries where they arrive. Under a formula proposed by the European Commission, France and Germany agreed to take 30,000 and 44,000 refugees respectively, out of the 160,000 who had made their way to Italy, Greece and Hungary.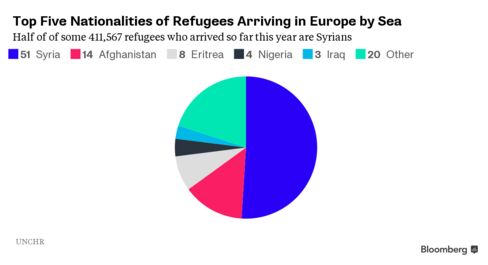 Le Pen
Those pledges have been overtaken by events as thousands of Syrians a day cross to Greek islands from Turkey, and then try to reach northern Europe. The Organisation for Economic Cooperation and Development said Tuesday that 700,000 refugees have sought asylum in Europe so far this year and that it'll be 1 million by year end, a record.
That has led Hollande's opponents to say he's doing too much or too little.
Marine Le Pen, leader of the anti-immigration National Front and by some measures the most popular presidential candidate in France, has compared the influx of refugees to the barbarian invasions that destroyed the Roman empire. Former President Nicolas Sarkozy said France should reinstall border controls, has blamed Hollande's handling of the Syrian crisis for the influx, and has called into question automatic citizenship for children born in France.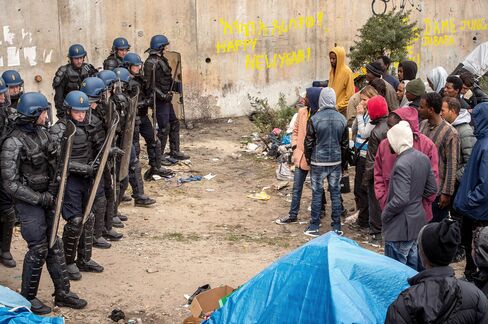 "There are differences of tone between Le Pen and Sarkozy on this issue, but they are basically on the same page," said Smain Laacher, a sociology professor at the University of Strasbourg.
On the other side, the CGT, France's largest union which has been critical of Hollande's economic policies, said in a statement Sept. 18 that France's efforts are "far below the possibilities of our country and the needs of the situation."
Public Opinion
Jacques Attali, an adviser to former President Francois Mitterrand who later ran the European Bank for Reconstruction and Development, wrote Sept. 15 in l'Express magazine that he "no longer recognizes France" in the timid official welcome given to refugees. Other commentators have drawn unfavorable comparisons to the generosity shown in 1979 when France took in 120,000 "boat people" who fled Vietnam.
Polls show Le Pen and Sarkozy may be closer to public opinion. About 80 percent of French people want the government to reinstate border controls, according to an Elabe poll for BFM Television released Sept. 16. In the same poll, people were asked whose views on the migrant issue they are closest to. Thirty-four percent said Le Pen, 32 percent Hollande and 30 percent Sarkozy.
The ambivalence in France is having one effect: Syrian migrants are heading to Germany. While the French government sent buses to Germany to bring several thousand Syrian asylum seekers to France, there have not been the same scenes of crowded trains and border crossings as in Germany.
Not Welcomed
"They want to go to Germany because it's the country that represents stability for them," said Louise Carr, a coordinator for displaced people at Amnesty International in France. "If every country would express the certainly and assuredness that Merkel has, then it would be much easier to share the burden."
Hollande's advisers deny that France is playing a less active role, saying that he and Merkel jointly drew up the quota system and France is taking the second largest share behind Germany.
Still, the OECD's annual migration report said that France has fallen to sixth from third place of countries with the largest asylum requests, behind Germany, the U.S., Turkey, Sweden and Italy.
"France should be worried when migrants don't want to come here," said Gemenne of Sciences-Po. "They don't want to go places where they think they are half welcome, unlike in Germany and Sweden. They also think they will have better economic opportunities there."
Before it's here, it's on the Bloomberg Terminal.
LEARN MORE