Europe's Negative Yields Abound as ECB Pressure to Ease Mounts
Dutch and Irish two-year yields drop to all-time lows

ECB President Mario Draghi spoke to Brussels lawmakers
Short-dated notes outperformed other euro-area government debt amid speculation the European Central Bank is moving closer to extending its stimulus measures, even as President Mario Draghi said more time is required to judge the need.
Dutch and Irish two-year note yields slid to records below zero, while a four billion-euro ($4.5 billion) auction of German debt due in 2017 attracted the most demand in a year. Yields on Spain's two-year notes were little changed, while those on the nation's 10-year bonds climbed from the lowest level in a month.
With euro-zone inflation almost stagnant and data Wednesday showing a slowdown in manufacturing and services, there's growing speculation the ECB will expand its quantitative-easing program. At the same time, governing council member Ewald Nowotny said officials should be cautious about expanding QE, even though the economy's not doing as well as they'd hoped.
"It seem to be clearer now that the ECB has some work to do given the development of inflation expectations," said Christoph Kutt, head of rates strategy and sovereign credit at DZ Bank AG. "Hence, the short end remains firmly anchored."
Spain's 10-year yield rose one basis point, or 0.01 percentage point, to 1.97 percent at the 5 p.m. close in London, after climbing as much as three basis points earlier. The 2.15 percent security due in October 2025 declined 0.12, or 1.20 euros per 1,000-euro face amount, to 101.655.
The nation's two-year note yield was little changed at 0.16 percent, meaning the extra yield investors demand to hold the 10-year securities instead widened to 181 basis points.
Germany's sale of the two-year securities drew bids for 2.44 times the debt allocated, the most since July 2014. The nation sold the notes at an average yield of minus 0.26 percent.
Record Lows
Dutch two-year yields were little changed at minus 0.23 percent, having touched minus 0.25 percent earlier. Ireland's fell to minus 0.189 percent. A negative yield means investors buying the securities now will get back less upon maturity than they paid.
While the ECB's 1.1 trillion-euro bond-buying program pushed the average euro-region bond yield to a record low of 0.4252 percent in March, yields have since rebounded.
"Should some of the downward risks weaken the inflation outlook over the medium term more fundamentally than we project at present, we would not hesitate to act," Draghi told European Parliament lawmakers in Brussels. "More time is needed to determine in particular whether the loss of growth momentum in emerging markets is of a temporary or permanent nature."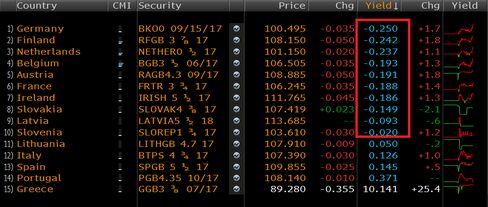 Before it's here, it's on the Bloomberg Terminal.
LEARN MORE