Divide Copper Price by 1,000 to Find Strength of Chinese Economy
Copper at $5,000 a ton suggests China growing about 5% not 7%

China consumes almost half the world's copper supply
For an accurate diagnosis of China's economic woes, it may be time to page Dr. Copper.
Even with the world's No. 2 economy on course to record its weakest expansion since 1990 this year, international economists and policy makers still worry the government overstates its rate of growth.
A poll conducted by Barclays Plc this month found 60 percent of clients reckon the expansion rate is 2 percentage points lower than the official estimate. Its own economists calculate that since early 2014, economic activity deviated from the headline gross domestic product data by between 50 and 150 basis points.
Bank of England Governor Mark Carney became the latest official to note last week that China's economy may be more volatile than statistics suggest. For its part, the Chinese government is tweaking data to better reflect short-term fluctuations and pave the way to adopt an International Monetary Fund standard.
Fresh questions were asked about the health of China's economy on Wednesday as a private gauge of manufacturing in the country fell to its lowest in 6 1/2 years, challenging President Li Keqiang's growth target of about 7 percent for this year.
In the meantime, Barclays commodities strategist Kevin Norrish is suggesting the economy's true strength can be divined by checking out the price of copper.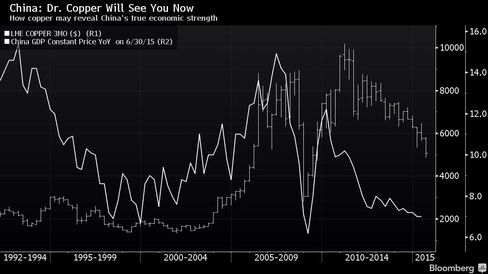 While its reputation as an economic bellwether has taken a bit of a bashing lately, the metal has historically served as a useful gauge because its use in everything from pipes to wiring means it's closely linked to shifts in demand.
Its status as an economic indicator may be especially relevant in China, even though services are gradually becoming a more important component of gross domestic product.
The country consumes almost half the world's supply of the metal, and is now the biggest refiner of it after heavy investment in processing, according to a report published by Norrish on Tuesday.
So strong is the correlation between copper and the economy that Norrish says a "reasonably accurate" estimate of true Chinese growth can be calculated by dividing the price of copper by a thousand.
"Rough rule of thumb though this may be" the recent slide in copper to near $5,000 a ton would indicate Chinese growth "may be much closer to the 5 percent level than the 7 percent the official figures suggest," said Norrish.
That's not far from the estimate from Barclays that China probably expanded about 5.6 percent on an annual basis in the first two quarters of this year, compared with the official reading of 7 percent. The bank is now predicting growth of 6.6 percent this year and 6 percent in 2016.
Before it's here, it's on the Bloomberg Terminal.
LEARN MORE