China's Richest Stock Traders Aren't Buying Xi's Bullish Message
Stock accounts with biggest funds decline most in August

Chinese officials keen to stress market turmoil is over
Chinese policy makers have a message: the stock market is stabilizing. Their biggest challenge will be persuading the richest investors.
As the boom turned to bust, the number of accounts holding shares worth more than 10 million yuan ($1.6 million) almost halved in the past three months, the biggest decline among four categories of investor wealth tracked by the nation's clearing agency. While accounts with less than 100,000 yuan rose by 3.8 percent in August, those with the biggest funds fell 17 percent -- partly due to a 12 percent drop in the Shanghai Composite Index.
President Xi Jinping and central bank Governor Zhou Xiaochuan said this month unprecedented intervention in the equity market helped reduce the risk of the $5 trillion rout spilling over into the broader economy, and bring closer an end to the plunge. Yet for those with the most at stake, even cash is a more appealing than stocks amid slowing growth and concern over the staying power of the rescue efforts.
"Cash is king for smart investors now as risks still exceed returns," said Wu Kan, a Shanghai-based fund manager at JK Life Insurance Co. "There's no wealth effect in this market."
Overseas Assets
The Shanghai Composite has tumbled 39 percent from its June 12 high, the worst performance worldwide, while price swings on the gauge over the past 30 days were twice as extreme as the average for the biggest global markets. Mainland Chinese equity funds lost 44 percent of their value at the end of last month compared with July, according to the Asset Management Association of China.
The richest investors are shifting money into property and overseas assets, said Gerry Alfonso, a sales trader at Shenwan Hongyuan Group Co. Home prices gained for a fourth month in August, while an Aug. 11 devaluation of the yuan accelerated capital outflows.
"Wealthy individuals have more investment options," Alfonso said in Shanghai.
The ranks of investors with at least 10 million yuan in stocks slid to about 46,000 in August from 55,000 in July, extending drops of 28 percent in July and 13 percent in June. Those with between 1 million yuan and 10 million yuan declined by 15 percent last month, according to data compiled by China Securities Depository and Clearing Corp.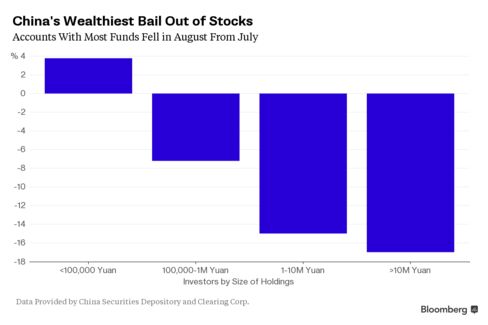 The Shanghai Composite fell 2.2 percent by the midday break after a private manufacturing gauge unexpectedly fell to its lowest level since March 2009.
"China's stock market has reached the phase of self-recovery and self-adjustment" after intervention "avoided a systemic risk," Xi told a gathering of business leaders in Seattle on Tuesday. Declines in shares are almost over and financial markets are expected to be more stable, People's Bank of China Governor Zhou said Sept. 5. The rout isn't a reflection of the health of the economy and efforts to stem the slide in equities fall within the "boundaries of reasonableness," top diplomat Yang Jiechi said in an interview on Sept. 9.
Efforts to stabilize the market may be taking effect. The Shanghai Composite rebounded 8.8 percent since its Aug. 26 low through Tuesday, while intraday declines of more than 5 percent -- which occurred almost daily during the depths of the rout -- have been absent in the past month. The equity gauge may climb a further 10 percent by December as monetary easing and infrastructure spending bolster growth prospects, Societe Generale SA wrote in a note Tuesday.
"We are back into a holding pattern, we have some calm and balance
restored," said Sam Le Cornu, who oversees about $3 billion in Asian listed equities at Macquarie Investment Management in Hong Kong.
Industrial Output
A string of weak economic data is increasing concern about the outlook for corporate earnings, while Xi's plan to overhaul the country's $16 trillion state-run sector unveiled this month failed to reignite investor interest. Barclays Plc cut its forecast for the nation's growth next year to 6 percent from 6.6 percent after data showed industrial output missed economists' forecasts.
Another concern for investors is what happens when the state starts to step back and how long curbs on trading will remain. China's securities regulator said Aug. 14 that the government agency tasked with supporting share prices will reduce purchases as volatility falls. Restrictions on trading futures and a probe into "malicious" short-selling are making it almost impossible for investors to hedge positions.
"Apart from retail investors like grannies and college students, anybody with experience knows where the stock market is going," Andy Xie, an independent economist who previously worked for the World Bank and Morgan Stanley, said from Hong Kong. "It will be hard for the market to go up. The economy is still sliding and there are no policies on the table to reverse the trend."
— With assistance by Shidong Zhang, Kyoungwha Kim, and Allen Wan
Before it's here, it's on the Bloomberg Terminal.
LEARN MORE