Bank-Bashing Lull Brings Relief to Polish Market Before Election
Bonds recover as Law & Justice softens line on bank levies

Moody's raises outlook for banks to stable from negative
The punchbag of Polish politics, banks are finding some unexpected solace.
Lawmakers unable to agree on the losses lenders must cover to help their Swiss-franc mortgage holders have put the planned legislation on ice until after the Oct. 25 election. When it eventually returns to the parliament, the opposition Law & Justice party that's leading in polls says it would be careful not to overburden banks with its promised additional tax at the same time.
While banks certainly aren't off the hook, the calmer mood is reviving investor confidence, driving a recovery in stocks and bonds from the multi-month lows of August. The delay in legislation may already have saved banks on the final compensation bill for exchange-rate losses given the zloty's 5 percent appreciation against Switzerland's currency since July.
Given "most of the additional cost to the banking sector has been priced in already, we may see some relief rally in October if and when more clarity is gained with respect to the final shape of the Swiss-mortgage conversion and the bank levy," Martin Kutny, a bonds and currency analyst at Raiffeisen Bank International AG in Vienna, said on Monday.
Bonds have reflected the change in mood over the past month as lawmakers signaled support for the legislation was waning. The yield on Eurobonds of Commerzbank AG unit MBank SA due April 2019 fell to a three-month low last week from the highest in more than a year a month earlier. The premium investors demand to hold four-year notes of PKO Bank Polski SA, Poland's largest lender, over similar-maturity government debt dropped eight basis points from this year's peak in August. Both banks' bonds have retreated that past three days.
Kutny advised buying PKO's bonds while keeping a sell recommendation on MBank because its share of franc mortgages is higher.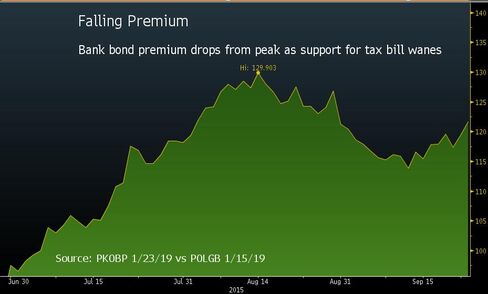 The abandoned draft law envisaged forcing banks to absorb anywhere between half and 90 percent of the loss on Swiss-currency mortgages when converted back into zloty, for a total bill of 9.5 billion zloty ($2.5 billion) to 21 billion zloty.
President Andrzej Duda, whose surprise election in May first pointed to a Law & Justice victory next month, said last month he'll be putting forward his own plan to the new parliament. In a sign of a more moderate approach, Law & Justice lawmaker Pawel Szalamacha advised against the Swiss-franc legislation and the bank tax coming together. "If introduced at the same time, those solutions may together create too much of a burden," he said Sept. 9 in an interview in Krynica, Poland.
Lower Costs
Amid investor concern that the party's mooted idea to tax bank assets would discourage lending, the party probably will opt for a levy on financial transactions instead, another lawmaker, Jerzy Zyzynski, told Bloomberg on Wednesday. That would reduce the overall cost to about 1.7 billion zloty from 5 billion zloty, according to the party's calculations.
There are other hazards ahead. Banks may have to increase contributions to the industry's bankruptcy fund and finance another safety net for distressed borrowers.
After record profits last year, the industry's combined net income fell 11 percent in the first seven months of 2015, the financial market regulator said on its website.
Still, despite "substantial risks" to the profitability of Polish banks, Moody's Investors Service lifted its outlook on the industry to stable from negative, according to a report this week. Lending will grow by at least 5 percent as Poland's economy expands faster than the average for the European Union, Aleksandar Hristov, a Moody's analyst, said in the report.
"The worst-case scenarios are known," Dariusz Gorski, an analyst at Bank Zachodni WBK SA in Warsaw, said Tuesday. "There is little risk that anything surprises us negatively."
Before it's here, it's on the Bloomberg Terminal.
LEARN MORE