Window to China's Future Guangdong Grapples With 'New Normal'
Governor Zhu Xiaodan says province is at `vanguard' of reform

Innovation, services, to replace sweat shops as growth driver
For centuries, the southern province of Guangdong has been at the forefront of China's economic evolution.
Emperor Qianlong in the 18th century made the provincial capital Guangzhou -- then known as Canton -- the only port to allow foreign trade. When the Communist Party took power in the middle of the last century, the Canton Fair remained a window to Red China. And when Deng Xiaoping needed a testing ground for market-based reforms in the early 1980s, he chose the Pearl River Delta.
Investment and cheap workers flowed in from across China and cheap exports poured out. The resulting "Guangdong miracle" brought average annual double-digit growth rates for 35 years. Today, as the manufacturing-based model reaches its use-by date, the province is seeking a new future for its $1 trillion economy and the nation's. The plan centers on innovation, services and a "new normal" of slower, more sustainable expansion.
"As a leading province in China's opening-up and reform, Guangdong's economy has entered the 'new normal' at an earlier stage," provincial Governor Zhu Xiaodan told Bloomberg in a rare, 31-page written interview. "Since we entered the new stage earlier, we should adapt to it earlier, so that we can play a leading role. That's the meaning of being a vanguard."
Huawei, Tencent
The province -- with an economy bigger than Indonesia's and more people than Germany -- has already made inroads, spawning companies such as Huawei Technologies Co., the nation's largest maker of telecommunications equipment, and Tencent Holdings Ltd., which operates the WeChat instant-messaging service and online banks and plans to make movies.
"You can use Guangdong as the window to peer into China's economic future," said Zhao Yang, the chief China economist at Nomura Holdings Inc. in Hong Kong. "It's quite possible Guangdong will find a new growth model for China that relies more on innovation."
The province has shut swathes of heavy industrial capacity, built up the services sector and raised research-and-development investment in its second-largest city of Shenzhen to a level approaching that of South Korea's. HSBC Holdings Plc became the latest to endorse Guangdong's strategy this week in planning to add 4,000 jobs in the region.
The challenges facing Zhu in Guangdong resemble those confronting President Xi Jinping as he tries to shift the world's second-biggest economy away from cheap labor and debt-fueled capital spending. The governor said Xi wants Guangdong -- accounting for about one-tenth of the national economy, one-eighth of fiscal revenues and a quarter of foreign trade -- to set an example for the nation.
Speaking in Seattle on the first day of a week-long U.S. visit, Xi told a gathering of business leaders that China would never close its open door to the outside world and would rely on "reforms" to keep a medium to high growth rate despite slowdown pressures.
The preliminary reading of a private Chinese manufacturing gauge fell to the lowest in more than six years on Wednesday, underscoring challenges facing the nation as its old growth engines splutter.
Guangdong has promised Premier Li Keqiang local economic growth exceeding the national average and fiscal revenue that's "significantly" higher, said Zhu, 62, who's worked his whole career in the province, including a stint in a musical instrument factory during the Cultural Revolution. Underscoring his vision for the province's leading role, Zhu used the word "vanguard" 10 times in his response.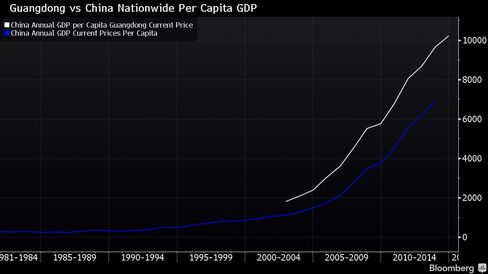 Guangdong's old growth model was to "lend the place to other people to play" by luring migrant workers from inland provinces and money from Taiwan, said Andy Xie, an independent economist who previously worked as Morgan Stanley's chief Asia-Pacific economist. As China's labor pool shrinks and the younger generation eschews work on the factory floor, Guangdong will be in for a bumpy ride, Xie said.
"Its model is too much like Southeast Asia's," he said. "The local labor force isn't the main driver and no major economy can prosper like that in the long run."
Zhu, who was acting governor in 2011 before taking the role in 2012, has overseen a deceleration in growth. The provincial economy expanded by 7.8 percent in 2014 and 7.7 percent in the first half of 2015, down from 12.2 percent in 2010. He acknowledged that Guangdong faces the prospect of a "shrinking labor supply and an aging population."
Migrant Workers
The province is opening doors to let some migrant workers become permanent residents, giving them more access to local education, pension and health coverage. Some 640,000 migrant workers have obtained permanent residency so far, he said. Still, that's a small share of the province's 107 million people, which includes more than 30 million migrants.
Along with its economic might, the province is also a political proving ground. Xi's father, Xi Zhongxun, was a key Communist Party official in Guangdong from 1978 to 1980 and helped Deng establish the nation's first special economic zone in Shenzhen. Hu Chunhua, who, as provincial party chief, is Zhu's boss, is the second-youngest member of the ruling Politburo and considered a front-runner for a top post.
Political Base
"The better that Guangdong is doing economically, the more that it can be advertised by people like its party secretary and governor," said Louis Kuijs, the head of Asia economics at Oxford Economics in Hong Kong. "They've made good initial steps on both the policy front and the economy, but there are serious challenges ahead."
Guangdong has been at the center of China's recent stock boom and bust, with the Shenzhen Stock Exchange soaring almost 120 percent this year, only to give back most of those gains. Zhu said stock market swings haven't generated a "noticeable impact" on consumption because stock funds account for only a small portion of local household wealth.
The governor said Guangdong wanted to lead the overhaul of China's state-owned enterprises. A restructuring-and-development fund set up in April will use some of its initial 1.5 billion yuan ($235 million) to recapitalize 23 local state companies by year's end.
Regional Links
Guangdong will promote cooperation with other nations as part of the "One Road One Belt" strategy, the governor said. Guangdong, which is closer to Bangkok and Manila than to Beijing, would improve connections to other countries by air, land and sea, he said.
The province is also rolling out a free-trade zone. Instead of offering tax breaks or cheap land, it's trying to develop a freer investment and trade rules-based system and a "service-oriented" government -- a model that can be duplicated in other parts of China, Zhu said.
The province is taking steps to open the capital account in Qianhai, allowing companies based there to borrow cheaply from lenders in neighboring Hong Kong, he said.
To create a clean and efficient government, Zhu said the province would develop a rule-based anti-corruption system to enhance checks and balances. Guangdong has been one of the provinces hardest hit by Xi's anti-graft campaign, with Zhu Mingguo, a former deputy party secretary of the province, and Wan Qingliang, a former Guangzhou party chief, being investigated for corruption.
'Initial Results'
The province has "achieved initial results" in re-shaping its industrial landscape and has relocated 3,000 factories to the less-developed mountainous area from the Pearl River Delta, Zhu said. Last year, it shut down steel mills with capacity of 2.5 million tons and cement factories with capacity of 4.4 million tons, he said.
Guangdong's research-and-development spending last year equaled 2.4 percent of GDP, up from 1.3 percent in 2007, the governor said.
"Guangdong has been at the forefront trying to change the mindset and policies in order to facilitate the rebalancing of the economy and upgrading of the industrial sector," Kuijs said. "In that sense, Guangdong is already on the way towards the new normal."
— With assistance by Keith Zhai, and Xin Zhou
Before it's here, it's on the Bloomberg Terminal.
LEARN MORE