South Africa Replaces Mines Minister Amid Looming Job Cuts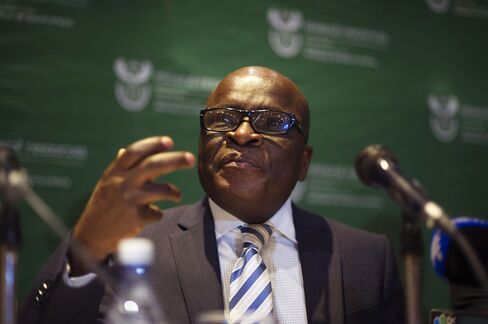 South Africa, the world's largest producer of platinum, replaced its mineral resources minister amid planned layoffs by mining companies and a commodity-price slump.
Mosebenzi Joseph Zwane will succeed Ngoako Ramathlodi, who has become the public service and administration minister, the presidency said in an e-mailed statement on Tuesday. Zwane, a former official of the Free State provincial government in departments ranging from economics to agriculture, will be sworn in on Wednesday in Pretoria, the capital, it said.
"One cannot slam the door in his face, but the point is he has no track record," Association of Mineworkers and Construction Union President Joseph Mathunjwa said by phone Wednesday. "He has only been on a provincial platform. Mining is another terrain, it needs a person with a thick skin." The AMCU is the biggest labor organization in platinum.
South Africa is the world's largest producer of manganese and the largest gold exporter on the continent. Plunging commodity prices are adding to pressure on an industry struggling with regulatory changes and unreliable power supplies, and some of the country's biggest mining companies are threatening to cut jobs.
Ramathlodi, appointed in May 2014 during a five-month strike that halted most operations of the world's three biggest platinum producers, "showed mining companies that he is a custodian of our minerals," and sought to include AMCU in negotiations, Mathunjwa said.
Unknown Quantity
Mining accounts for more than half of the nation's exports and employs about 440,000 people, a critical source of jobs in a nation with a 25 percent unemployment rate.
Zwane's appointment may "create anxiety among investors because he comes as an unknown quantity," Somadoda Fikeni, an analyst at the University of South Africa, said by phone. "The current challenges in the mining industry need someone with clout and political influence. Someone who does not have a high profile and is not a heavyweight, able to influence people in government and cabinet, may bring grave concern."
For more, read this QuickTake: The Politics of Platinum
Ramatlhodi spearheaded a plan to split legislation governing the nascent oil and gas industry from mining laws, a move welcomed by the Chamber of Mines.
"Notwithstanding the tough conversations we found it necessary to have with each other at times, we always appreciated Minister Ramatlhodi's openness to these frank conversations," Chamber Chief Executive Officer Roger Baxter said in a statement.
The replacement of Ramathlodi "could not have come at a worse time," Andre Venter, spokesman for the UASA union, which represents miners, said in a statement. The minister was "instrumental in bringing sustainability and relative job security back to the industry," he said.
National Union of Mineworkers General Secretary David Sipunzi said he has "no complaints" about Zwane's appointment even though he isn't known by the industry. Ramathlodi's "overall performance was commendable," Sipunzi said by phone.
Before it's here, it's on the Bloomberg Terminal.
LEARN MORE