Separatists Need Catalans' Taxes as Well as Votes, Grandee Says
Regional government drawing up plans to finance a new state

Catalonia needs tax revenue to boost leverage in negotiations
Separatist President Artur Mas needs Catalans to trust him with their taxes as well as their votes if he's to lead them to independence, according to a senior judge appointed to draw up plans for a new state.
Politicians and commentators in Spain are debating whether Mas's pro-independence movement would have a mandate to break away from Spain if it won control of the regional assembly with less than 50 percent of the vote in Sunday's election. Carles Viver Pi-Sunyer, a former Constitutional Court judge and adviser to Mas, said the real bar is higher.
"When I get asked whether a majority of votes or a majority of seats I say a majority of people who pay their taxes to Catalonia," said Viver, who was a member of Spain's highest court before joining the Catalan government in 2004. "If 70 percent of the citizens decide to pay taxes to our agency, then the Spanish state would face a complicated situation."
Control of tax revenue lies at the center of the power struggle between officials in Barcelona and Madrid.
Tax Battles
At the moment, the Spanish state holds taxpayer data and collects the main levies including income and corporate taxes. But separatists have devised a system that allows Catalans to pay the regional government instead. Officials are also studying ways for the regional authorities to access the full database of Catalan taxpayers as well as the property registry, Viver said in an interview Monday in his office in Barcelona.
The challenge for Catalan officials is that the Spanish tax agency has the power to freeze the citizens' bank accounts if they don't receive payment, posing a dilemma to Catalans wanting to support the cause. That risk can be eliminated by creating "legal security and doing things right," said Viver, without providing details.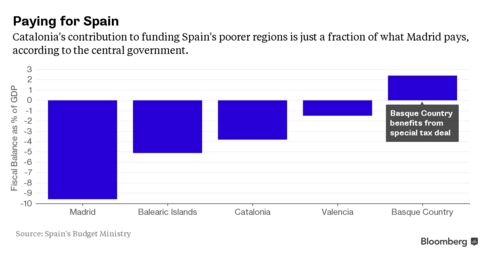 The Catalan government, which collects about 5 percent of the region's levies, needs the cash to build the institutions of a new state such as a pension system. Gaining control over a bigger slice of the taxes may also force the Spanish government to negotiate because its budget deficit, the second-largest in the European Union, leaves it vulnerable to disruptions in its cash-flow.
Spanish Prime Minister Mariano Rajoy has refused to engage in any negotiation over moves toward independence, saying that the process is illegal. Instead, the central government is setting up a legal firewall with lawsuits before the Constitutional Court.
Mas named Viver to head his Commission for the National Transition, though his role was suspended when the Spanish government filed a lawsuit with the Constitutional Court in Madrid in July.
Building a State
Over the next 18 months, the regional government plans to prepare most of the institutions for a Catalan state. At the end of that process, Catalonia would start acting as a state and requesting its citizens to pay their taxes, said Viver, citing the road map agreed by the region's ruling party Convergencia and its separatist ally Esquerra Republicana.
Mas's advisers looking at how to finance the new state are considering raising debt in international markets or offering rebates for taxpayers willing to advance payments, said Viver. They are also looking at other "very interesting" alternatives, he said, declining to give any more detail.
"It's fantasy to think that you will collect all the taxes from day one," Viver said. "But it's not true that we won't be collecting any tax."
Before it's here, it's on the Bloomberg Terminal.
LEARN MORE