PricewaterhouseCoopers Will Give Employees $7,200 for Student Debt
The accounting firm plans to serve up a perk employees want but few companies offer.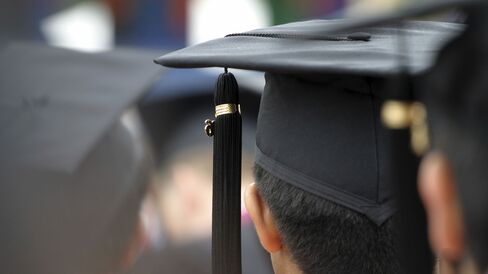 Starting in July, accounting and consulting firm PricewaterhouseCoopers will offer some employees a practical perk: $1,200 a year for up to six years toward their student debt. The benefit will be available to those with associate and senior associate titles, entry level positions that make up 45 percent of PwC's 46,000-person U.S. workforce.
Considering that 71 percent of graduates come out of school with an average debt burden of $35,000, it's not surprising that young hires yearn to repay student loans. A recent survey by Iontuition found that 80 percent of 1,000 people surveyed wanted to work for a company that offered student loan repayment assistance. Yet few businesses do this. Many organizations offer tuition assistance, but only about 3 percent have student loan repayment programs, according to a 2015 survey by the Society for Human Resources Management.
The move, PwC hopes, will help with recruiting. "It is a very competitive market for talent that we're trying to have come into this firm," said Robert Gittings, PricewaterhouseCoopers vice chairman. "We think this is going to be an important way to attract talent, including diverse talent." This year, the company plans to hire more than 11,000 people through campus recruiting. To qualify for help, employees don't have to work at PwC for a minimum number of years, and they won't have to pay it back if they leave after a certain amount of time has passed.
For many, chipping away at massive amounts of debt trumps other benefits—and not just fluffy offerings such as wellness programs and unlimited vacation. "We know this is going to be an important benefit that's something they worry about," added Gittings. About half the people surveyed by Iontuition said they would prefer student loan reimbursement over health-care subsidies and and 401(k) contributions. While those most concerned with student debt are often young people who don't save enough and think they're invincible, Michael Fenlon, PwC's global talent director, thinks offering the perk will have "lots of secondary impact," as he told the Washington Post. "Student loan debt impacts the ability to save for retirement," he added as an example.
The assistance will ease the pain of loan repayment only slightly: Paying $1,200 annually for six years doesn't put much of a dent in $35,000. Plus the funds will count as as additional income subject to taxes.
That might not matter. With the announcement, PwC stands out as one of the most visible companies that's even thinking about the issue as part of its benefits packages. Employers have started beefing up benefits packages, offering employees more creative, distinctive perks in lieu of higher salaries to attract talent.
"Many companies are seeking ways to differentiate themselves to better attract, retain and engage the employees they need most," said Ray Baumruk, partner in employee research and insights at Aon-Hewitt. He noted that the perk would be most attractive to recent graduates and people just starting their careers. "Providing this type of benefit is unique among employers," he said.
Before it's here, it's on the Bloomberg Terminal.
LEARN MORE