Norway Seen Signaling Rate Cut as Oil Slump Threatens Growth
Ten of 17 economists surveyed see bank on hold on Thursday

Weak krone spurring inflation key reason to stay at 1 percent
Will the plunge in oil prices be enough for the Norwegian central bank to ignore above-target inflation?
That's what economist are asking ahead of the rate announcement at 10 a.m. on Thursday in Oslo. Ten of 17 economist surveyed by Bloomberg predict an unchanged rate while the rest foresee a cut to new record low of 0.75 percent. The last time economists were so split on the outcome was in May.
A 13 percent drop in the krone against the euro in the past year pushed underlying inflation to 2.9 percent last month, above the bank's 2.5 percent target. The weak currency is boosting the nation's non-oil exporters, holding up key parts of the economy. Meanwhile, a 50 percent drop in Brent crude in the period is threatening to halt growth in an economy that relies on petroleum for almost a quarter of its output.
"We are just hovering around zero growth and that is going to continue for the next two quarters -- that's the best case scenario," said Marius Gonsholt Hov, an economist at Svenska Handelsbanken. He expects the bank to wait until December before it cuts.
Norges Bank in June reduced rates to a record low and signaled as much as a 70 percent chance of more easing in the autumn. Since then, a report showed that a drop in oil investments is expected to deepen next year and a Norges Bank survey signaled stalling growth.
The krone slid 0.2 percent to 9.2328 per euro as of 1:08 p.m. in Oslo.
Still, those betting on unchanged rate received backing on Wednesday as a report showed unemployment unexpectedly fell to 4.3 percent in July from a revised 4.4 percent in June, which was the highest since at least 2006.
Developments in the real economy have pushed some of Scandinavia's biggest banks to cut mainland growth estimates for next year.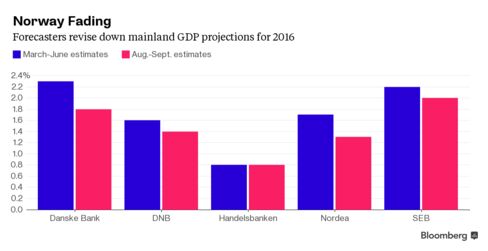 Here's what other economists in the region have to say:
Kyrre Aamdal, senior economist at DNB AB, Norway's biggest bank, sees unchanged rates as the bank signals a more than 50 percent chance of a cut in December:
"The risk of a much weaker development in the Norwegian economy is higher now than it was in June."
He sees a 25 basis point cut in November
Danske Bank's Arne Lohmann Rasmussen sees a rate cut on Thursday with a 50-50 chance of another cut by March:
"The drop in oil prices since the last rate meeting has increased" risks in the Norwegian economy.
High inflation is a temporary "effect that will eventually peter out."
Joachim Bernhardsen, an analyst at Nordea Bank AB, sees unchanged rates this week but the bank will maintain an easing bias:
"The krone has weakened and provided a significant stimulus to the economy."
SEB AB's Erica Blomgren sees rates unchanged until an increase at the end of 2016:
The rate path will be lowered "to underscore the bank's readiness to act."
Before it's here, it's on the Bloomberg Terminal.
LEARN MORE