Nigeria Defies Calls to Devalue as It Keeps Key Rate at 13%
Central bank leaves benchmark interest rate at record high

Falling oil prices have put pressure on naira currency
Nigeria's central bank kept its key interest rate unchanged at a record high, while defying calls to devalue the currency despite a plunge in oil revenue.
The Monetary Policy Committee held the rate at 13 percent, Governor Godwin Emefiele told reporters on Tuesday in Abuja, the capital. That was in line with the forecasts of 28 of 30 economists surveyed by Bloomberg, while two predicted a cut. The cash-reserve ratio was reduced to 25 percent from 31 percent.
A slump in crude prices by more than half in the past year has put pressure on the currency of Africa's biggest oil producer, forcing the central bank to twice devalue the naira since November. Emefiele, 54, turned to foreign-exchange controls this year to stabilize the currency, resisting pressure from investors and even fellow MPC members who say the naira remains overvalued.
"They are kicking the can further down the road," Roy Daniels, head of Africa trading at Rand Merchant Bank in Johannesburg, told CNBC. "We wanted to hear something about the foreign-exchange rate. To not mention it at all is pretty disappointing."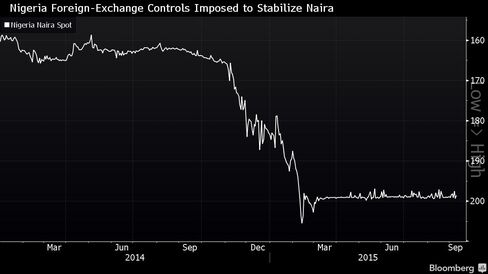 JPMorgan Chase & Co. excluded the nation from its local-currency emerging market bond indexes this month, concerned that the foreign-currency restrictions would make it difficult for investors to sell the securities. Emefiele's opposition to a devaluation is backed by President Muhammadu Buhari.
Emefiele said the foreign-exchange trading restrictions will help create jobs and boost Nigerian industries and the central bank is optimistic that demand for hard currency will eventually come down.
The naira has stabilized to trade at an average of 198.90 against the dollar on the interbank market since March after weakening almost 10 percent in the first two months of the year.
Recession Threat
Policy makers kept interest rates unchanged even as inflation accelerated to 9.3 percent in August, exceeding the central bank's 6 percent to 9 percent target band for a third month.
The economy may fall into recession next year if "proactive steps" aren't taken to support key industries, Emefiele said. The economy grew at the slowest pace in at least five years in the second quarter, expanding 2.4 percent from a year ago.
Emefiele's signaling of a recession "suggests to me that they are slowly gearing themselves up for a U-turn on the position that they have taken to date," Manji Cheto, vice president of Teneo Intelligence in London, said by phone. "That's a clear indication that the growth story has got to be a big focus going forward."
Before it's here, it's on the Bloomberg Terminal.
LEARN MORE