Merkel, Seeking Secret Files in 2005, Found Berlusconi's Watches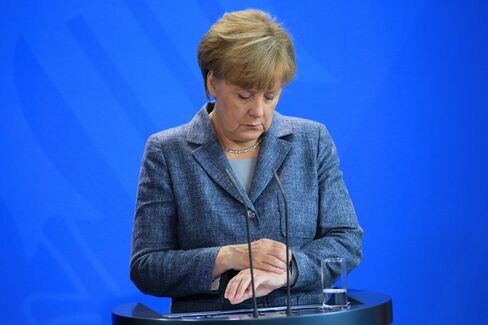 Chancellor shares stage with predecessor at book event

Credits Schroeder with helping spur Germany's economy
Angela Merkel wanted the secret files when she took office and got a stash of Silvio Berlusconi's watches instead.
So said Gerhard Schroeder, her predecessor as chancellor, as he and Merkel shared the stage at a book launch and traded memories of the day in November 2005 when she took office in Berlin. While Merkel credited Schroeder's labor-market overhaul with spurring Europe's biggest economy, the former chancellor recalled a lighter moment.
"There was of course the question, where are the secret files?" Schroeder, 71, said Tuesday at the presentation of a biography about him. "I had to say that we don't have any."
There was a safe, Schroeder said. "So we opened it and what was inside? Silvio Berlusconi's watches." They were gifts from the former Italian premier that Schroeder wasn't fond of wearing, according to a 2008 Focus magazine report.
While Merkel, 61, a Christian Democrat, didn't conceal the fact that she's a rival and not a friend of Schroeder, she lauded his program to scale back welfare payments and make Germany's labor market more flexible. That so-called Agenda 2010 still divides Schroeder's Social Democratic Party.
"We were and remain in many points, especially on foreign policy, of fundamentally differing opinions, but that changes nothing of my great respect for the reformer Gerhard Schroeder," Merkel said.
The two also recalled Election Night in September 2005, when Merkel's party bloc defeated the SPD by only a four-seat margin as her poll lead melted away. A now-famous post-election talk show featured a triumphant Schroeder vowing that Merkel, who sat in stunned silence, would never be chancellor.
Schroeder, who was derided for appearing overbearing, said Tuesday he now agrees with his wife that his performance "was as spirited as it was suboptimal." Merkel said she was thankful not to have to talk much.
After Schroeder's defeat, Merkel formed a coalition government with his party to become Germany's first female chancellor, while Schroeder left politics. She said she remembers the watches in the Federal Chancellery, though it was Schroeder who proposed peering into the safe.
She also recalled a gift left for her as he vacated the premises after seven years in power.
"In the office there was a cake, and I found that really great," Merkel said.
Before it's here, it's on the Bloomberg Terminal.
LEARN MORE