Lee Kuan Yew's Two Younger Children Dispute Rights to Interviews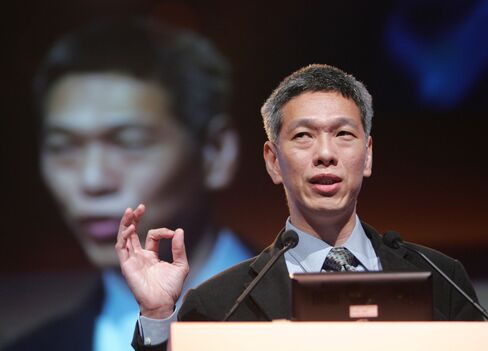 Lee's estate seeks to limit access to transcripts for 5 years

Lee's estate seeks all rights to interviews in 1981 to 1982
Six months after the death of Lee Kuan Yew, Singapore's longest-serving leader, a dispute has erupted between his two youngest children and the government over control of three-decade-old interviews, with a court likely to decide the matter.
Daughter Lee Wei Ling and younger son Lee Hsien Yang said Lee's estate should have all rights to the interviews given to the Oral History Department between July 1981 and July 1982, according to their filing to the Singapore High Court obtained Wednesday. They are also seeking to restrict access to use or provide copies of the transcripts until five years after his death, the filing showed.
At issue is interpretation of a 1983 agreement the elder Lee made after he gave the interviews, something that will be up to the city's courts, the Attorney-General's office said in a statement.
"The government will establish the proper interpretation and status of the agreement before the court," the Attorney-General said in its statement, adding that the agreement related to the "custody and use" of the interviews.
That dispute underlines the sensitivities over the legacy of Lee, who founded the Republic of Singapore when the city split from Malaysia in 1965. Lee, whose death on March 23 led to an outpouring of emotion with more than a million people paying respects as he lay in state, was seen as almost synonymous with the city and its government.
Government Disagrees
"The government has disagreed that the LKY estate is entitled to use and have copies of the transcripts," the siblings, who are executors and trustees of their father's estate, said in a statement sent by their lawyer late Tuesday.
The siblings had asked the government for copies of transcripts of interviews, according to the statement. The disagreement led to the court application "for an interpretation of the agreement."
Lee's death and celebrations to mark Singapore's 50th year of independence helped the ruling People's Action Party, helmed by eldest son Prime Minister Lee Hsien Loong, extend its more than five-decade rule at the Sept. 11 election.
There have been calls from the public to preserve the late Lee's pre-war bungalow at Oxley Road near the city's shopping belt. Lee has said in his will that he wanted the house torn down after his death or when his daughter moves out, and the prime minister said in April that his father "made it very clear throughout his life that he did not need and did not want any monument."
The case is Lee Wei Ling, Lee Hsien Yang v Attorney-General, OS816/2015. Singapore High Court.
Before it's here, it's on the Bloomberg Terminal.
LEARN MORE