Hedge Funds Look to Fonterra Milk Price For Steer on Kiwi's Fate
Central bank has sharpened market's focus on dairy prices

Kiwi is this year's worst performer among major currencies
The immediate fate of New Zealand's dollar, the worst performer this year among major currencies, may hang on what Fonterra Cooperative Group Ltd. says Thursday about milk.
This year's 19 percent plunge in the kiwi has ratcheted up interest in Fonterra's dairy auctions after falling prices for New Zealand's key export helped convince the central bank to cut interest rates three times. Fonterra is forecast to raise its 2015-16 estimate of farmer payouts on Thursday after its decision to reduce the amount of product it offers at auction helped arrest the price slide.
"At the moment, the question that the market has is what Fonterra is going to do with the additional supply, or the supply they've withheld from the auctions," said Sean Keane, an Auckland-based analyst at Triple T Consulting and the former head of Asia-Pacific rates trading at Credit Suisse Group AG. "If it's able to place that supply at a reasonable price and so boost the payout to dairy farmers, then the kiwi should stabilize. It's not clear as yet exactly what's happening with that supply."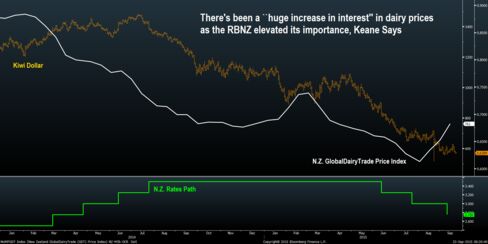 The slump in dairy prices to a 12-year low in August hurt New Zealand farmer incomes and is curbing economic growth in a nation that relies on milk powder, butter and cheese for a quarter of its export earnings. Central bank Governor Graeme Wheeler has signaled further easing, saying falling dairy prices are discouraging investment and damping demand.
That's pushed the kiwi dollar down 29 percent from a near-record it reached in July last year to 62.87 U.S. cents as of 8:54 a.m. in Sydney. It closed at a six-year low of 62.59 on Sept. 7. Its fall this year has been the sharpest among group of 10 currency peers.
Commonwealth Bank of Australia began sending its clients, including hedge funds in the U.S. and Europe, previews of Fonterra's fortnightly auctions about four months ago in response to growing queries, said Sydney-based currency strategist Joseph Capurso. Interest in Thursday's update from Auckland-based Fonterra, when it will also publish full-year results, is high, he said.
Dairy In Focus
"There's a lot more interest in hedge funds trading the kiwi in the past six months and our clients are very interested, in particular, on trading the kiwi off of anything related to dairy," he said. The auctions run by the world's largest dairy exporter are "a good indicator of what Statistics NZ report a few months later when they put together balance of payments and terms of trade and GDP and those sorts of statistics."
Fonterra's update may help decide whether the RBNZ makes a fourth successive cut to its cash rate next month. Nine of 14 economists in a Bloomberg poll predict the cash rate will be reduced to 2.5 percent on Oct. 29.
Projections of what Fonterra will raise its 2015-16 forecast payout to range from NZ$4.25 ($2.67) to NZ$5 per kilogram of milksolids, according to New Zealand's four biggest banks. The company slashed its estimate to NZ$3.85 a kilogram on Aug. 7, the lowest in at least 10 years. Prices have surged 48 percent since then, after the company predicted a decline in New Zealand milk production and said it would offer less milk powder and butter through the auctions.
Prices "have lifted earlier and faster than anticipated," said Doug Steel, senior economist at Bank of New Zealand Ltd. in Wellington, who predicts a NZ$5 payout. "Where milk prices ultimately end up heavily depends on where international prices track over coming months."
Before it's here, it's on the Bloomberg Terminal.
LEARN MORE