Gold Miner Ready for Yellen to 'Get on With It' Sees Price Rally
Gold miners are getting tired of waiting for Federal Reserve Chair Janet Yellen.
Investors have fled the gold market in the past two years as a steadily improving U.S. job market raised speculation that Fed officials would start raising interest rates. The metal will probably start to climb once officials finally start tightening, because higher rates are already priced in and there will be less uncertainty in the market after the liftoff, according to Goldcorp Inc.'s Chief Executive Officer Chuck Jeannes. Newmont Mining Corp. also expects the increase will be a boon for the industry.
"I wish Mrs. Yellen would get on with it," Jeannes said in an interview in Denver, where mining executives are gathering for an industry conference. "It will be a net benefit to gold prices when it actually happens."
The will-they-won't-they game of waiting for the Fed to act has sucked interest out of the gold market. Higher rates curb the allure of bullion by making it less competitive against assets that pay a yield, like bonds. Prices have tumbled almost 25 percent since falling into a bear market in April 2013.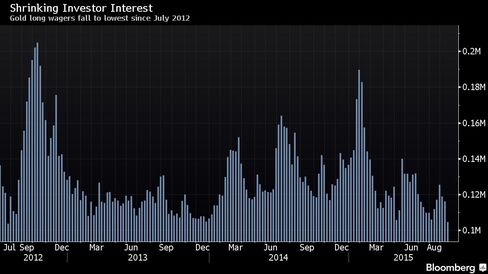 Volume in New York contracts has languished, while investors have dumped holdings of the metal through exchange-traded products. Money managers have the smallest net-bullish holding since funds were short in mid-August. Long wagers are at the lowest since July 2012. This signals that investment demand has probably bottomed, and that traders could start moving back into the market once rates are raised, Jeannes said.
"There's not a lot further for it to go down," Jeannes said. "Until the Fed acts, and gets that behind us, it's almost like a cap on our ability to move, in terms of the gold price."
Bullion's rout has sapped investor confidence in miners, sending the benchmark 30-member Philadelphia Stock Exchange Gold and Silver Index of the largest producers down 34 percent this year. Shares of Goldcorp retreated 31 percent, while Newmont dropped 18 percent. That trend may be set to reverse once the Fed moves, Newmont Chief Executive Officer Gary Goldberg said Tuesday in an interview at the Denver Gold Forum.
After rates go higher, "generalist investors can come and take a look at the gold industry," Goldberg said. "Because right now, I think they're shying away, because they're worried about when interest rates go up, that'll have a negative effect. Once that's done, then that overhang will be done."
Before it's here, it's on the Bloomberg Terminal.
LEARN MORE