Dollar Climbs as Fed Revives Rate-Rise Speculation
Futures showing 41% odds for December increase in benchmark

Lockhart says volatility won't preclude central-bank move
The dollar reached its strongest level in almost two weeks against the euro after Federal Reserve officials said the U.S. economy is strong enough to withstand an interest-rate increase this year.
The greenback climbed versus all but two of its 16 major peers. Futures traders saw 47 percent odds of a Fed move in December, up from 44 percent on Sept. 17. Fed Bank of Atlanta President Dennis Lockhart said he remains confident the U.S. will tighten policy this year, even as recent market volatility raised risks to the economic and inflation outlook. European Central Bank Executive Board member Peter Praet said in Geneva on Monday that policy makers "would forcefully react" if the ECB's inflation goal is at risk.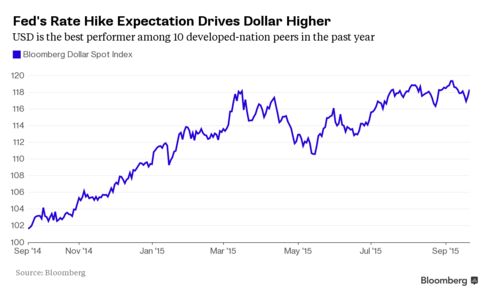 "The U.S. dollar is back on the front foot," said Kymberly Martin, a markets strategist in Wellington at Bank of New Zealand Ltd. "From a medium-term perspective, the euro has got further to fall. Particularly if the U.S. Federal Reserve does at some point this year hike rates, it will become even more apparent the different trends in monetary policy from the two regions."
The dollar appreciated 0.6 percent to $1.1123 versus the euro at 1:31 p.m. in New York. It touched $1.1114 per euro, the strongest level since Sept. 4. The U.S. currency fell 0.6 percent to 119.90 yen.
Rising Volatility
The greenback climbed 17 percent in the past year, according to Bloomberg Correlation-Weighted Indexes, the best performer among the 10 currencies tracked. The euro fallen 0.3 percent and the yen gained 5.1 percent.
Currency volatility rose Monday, halting a four-day decline, according to JPMorgan Chase & Co.'s measure of price swings in global foreign exchange.
Lockhart's comments followed explanations from three other policy makers over the weekend who gave their rationale for expecting a rate increase will be delivered at one of the Fed's two remaining meetings of 2015. He is scheduled to speak again in Alabama on Tuesday.
A report due Thursday will show that orders for U.S. durable goods fell 2.3 percent in August, based on the median estimate of economists in a Bloomberg survey.
"The dollar should struggle to gain significant upside traction this week because U.S. interest rate expectations are unlikely to adjust much higher," said Elias Haddad, a Sydney-based currency strategist at Commonwealth Bank of Australia. "Nonetheless, unless global growth deteriorates, the Fed is still on track to raise rates later this year which should continue to support a firm dollar."
Before it's here, it's on the Bloomberg Terminal.
LEARN MORE