Currency Volatility Surges in Nordics as Banks, Investors Leave
Volatility in the currencies of Norway and Sweden has roughly doubled in the past year. Even Denmark's krone, which is pegged to the euro, has fluctuated at twice its normal rate.
According to Svante Hedin, global head of electronic markets for SEB's merchant banking operations in Stockholm, the main culprit is a lack of liquidity as investors and market makers pull out. Sweden's financial regulator also points to a link between greater volatility and fewer banks operating in Scandinavian markets.
It is a "testing time," Hedin said by phone. "There is currently less resistance in the market to smooth out or dampen the moves."
Much of the anxiety driving the development has been caused by abstruse signals from central banks, leading to confusion among market participants, Hedin says. Historically low interest rates have added to the general sense of unpredictability.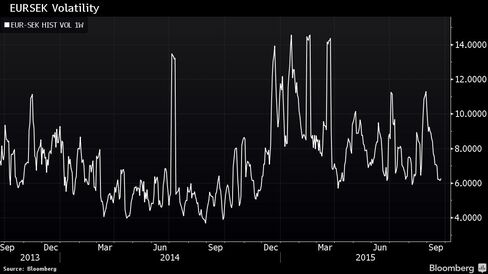 Rates are below zero in Sweden, where the central bank has relied on bond purchases to drive down longer yields. In Denmark, rates are also negative and bond auctions will only be resumed next month, after having been suspended since January. Bond markets in both countries have suffered substantial declines in volume as a result.
"There is uncertainty around the policy direction of some of the central banks," including "several recent examples of surprise turns and drastic measures," Hedin said. "Quite possibly, this is having an effect on investor confidence."
In Norway, the plunge in the price of its main export -- oil -- has knocked the currency market sideways.
"It's a case where you have a currency with the economy just torn out from under it," said John Hardy, head of FX strategy at Saxo Bank. "Oil investments are disappearing off the map."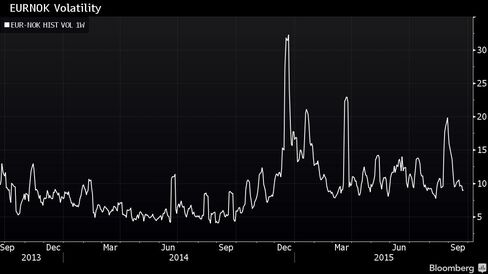 For investors and market makers alike, higher volatility augurs both greater risks and bigger costs, which in turn carry through into other markets. Some of the region's biggest investors have had to reassess their portfolios in response.
The Norwegian sovereign wealth fund -- the world's biggest -- last month raised its equity and bond portfolio risk, citing "greater fluctuations in the currency markets." Almost half the bond and currency market participants surveyed by the Swedish central bank in April said market functioning had deteriorated over the previous six months, which they mostly attributed to lower liquidity.
"What happens in Scandinavia is, you get the data releases or central bank meetings...and because they're rangy markets, boom it goes all over the place," Hardy said.
Hedin at SEB links the unpredictability of Scandinavia's currency markets to the departure of a number of global banks, many of whom are getting out to focus on core markets because of stricter capital rules.
Some left years ago, in connection with investigations into the region's money markets. Deutsche Bank withdrew from fixing the Danish swap reference rate in 2013, a year after Barclays said it was quitting a panel of banks that submitted bids for the Copenhagen interbank offered rate.
According to DailyFX market analyst Alejandro Zambrano, it's not just local monetary policies that are to blame. The ECB's quantitative easing program has buffeted Scandinavia's currency markets. Gains in the U.S. dollar have also added to volatility globally. Those forces may recede in the coming weeks, he said.
But Hedin says volatility won't die down until central bank policies in Scandinavia become more predictable. That would improve confidence and lure back investors and banks, he said.
If that ever happens, "activity levels will increase and market liquidity should improve," he said.
Before it's here, it's on the Bloomberg Terminal.
LEARN MORE