Coca-Cola Femsa's M&A Duel With Arca Seen Moving Ahead to Chile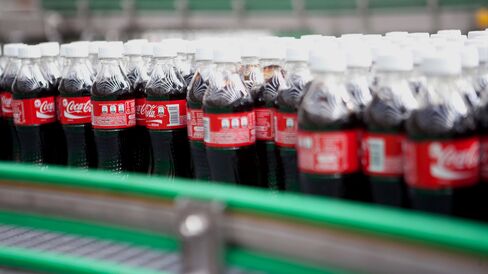 Chile's Andina, Embonor seen as inevitable next targets

Two decades of Coke bottling consolidation leaves few choices
Mexico's Coca-Cola Femsa SAB and Arca Continental SAB spent the last decade competing to buy up Coke bottlers across Latin America. Now they're setting their sights on Chile.
That's the natural last step after Arca bought 47.5 percent of Corp. Lindley SA of Peru for $760 million, leaving Santiago-based Embotelladora Andina SA and Coca-Cola Embonor SA as the primary targets still in play, according to Credit Suisse Group AG and Corporativo GBM SAB.
After cutting deals from Mexico to Argentina, Coca-Cola Femsa and Arca have made it increasingly difficult for family-run bottlers to go it alone, especially with Coca-Cola Co., the world's biggest beverage maker, encouraging mergers to boost efficiency. Over the past decade, Coca-Cola Femsa and Arca have snapped up about $10 billion in assets in Latin America -- a region that consumes more soft drinks than any other in the world.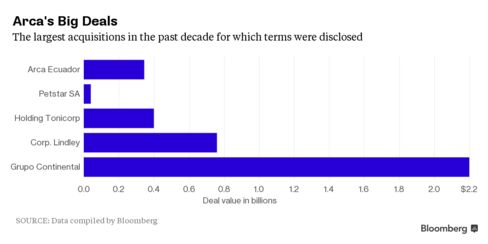 Coca-Cola "is seeking to consolidate different regions, and that would imply that in the case of Andina and Embonor, they'd be acquired by other companies that are bigger," said Tomas Sanhueza, an analyst at Credicorp Capital in Santiago. "I see a pressure on the part of Coca-Cola."
Andina declined to comment about its potential merger and acquisition strategy. Embonor declined to comment on any possible sale, and Arca didn't respond to requests for comment.
"Coca-Cola Femsa is always looking for opportunities to grow through reaching its operations' full potential," the company said in an e-mailed response.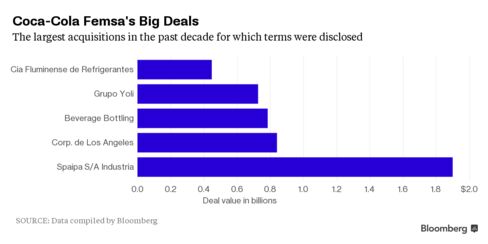 Shares Rise
Andina and Embonor shares have climbed 18 percent and 7.9 percent, since the Peru transaction, compared with a 1.6 percent increase in Chile's IPSA index through yesterday, partly because of the premium Lindley commanded. Brazilian investment bank BTG Pactual SA wrote in a Sept. 11 research note that the Lindley deal came at a "high price tag" -- some of which will be borne by shareholders in the form of dilutive capital increase -- but it also gave Arca "one of the most sought targets in the region."
Andina fell 0.2 percent at 12:04 p.m. Tuesday in Santiago, while Embonor was unchanged.
The transaction implied an enterprise value of about 13.6 times this year's projected earnings before interest, taxes, depreciation and amortization -- or Ebitda -- after adjusting for a lucrative non-compete agreement, according to a calculation by Credit Suisse analysts including Antonio Gonzalez. By comparison, Andina and Embonor trade at 8.9 times and 8.1 times 2015 Ebitda.
Andina, valued at 2.1 trillion pesos ($3.1 billion) on the Chilean stock market, also has operations in Argentina, Paraguay and Brazil. Its Brazilian operations generate 40 percent of revenue -- even more than Chile. Embonor, with a 553 billion-peso market capitalization, operates in Chile and neighboring Bolivia.
Different Strengths
Considering the strengths of Arca and Coca-Cola Femsa in different South American markets, one solution is to divide up a company such as Andina to make a deal more palatable to investors, according to Carlos Hermosillo, an analyst with Corp. Actinver SAB in Mexico City. Coca-Cola Femsa's biggest market on the continent is Brazil, while Arca is strongest in the Andes, getting a boost in neighboring Ecuador from the Lindley acquisition.
"There are countries that would benefit Femsa more and those that would benefit Arca more, depending on the areas where they already have a presence," Hermosillo said in a telephone interview. In addition, the companies may not want to be saddled "with such a heavy balance by doing the complete acquisitions on their own."
For Arca, Embonor would be an attractive target, because of its exposure to high-growth markets like Bolivia, according to Credicorp Capital's Sanhueza.
As part of the Arca-Lindley deal, the Lindley family committed to put part of the proceeds back into its partner, buying 64.5 million Arca shares for $400 million. Smaller bottlers are likely to come around to that type of arrangement as being in their own best interest, GBM analyst Miguel Mayorga said.
"Being realistic, the growth opportunities are very limited for small and medium-sized bottlers in the system," Mayorga said. "They need to look at opportunities to build a more profitable vehicle, that becomes part of a more profitable system, where not only will they make more money for themselves, but so too will the bigger bottler and the Coca-Cola Co."
Before it's here, it's on the Bloomberg Terminal.
LEARN MORE