Chart-Watchers Zero In on More Warning Signals for U.S. Equities
Technical analysis patterns suggest further weakness ahead

Head-and-shoulders, Dow Theory point to shifting trend
Equity investors rattled by last month's correction, the prospects for the global economy and the Federal Reserve's interest rate policy can add a few more reasons to worry.
Several technical charts are sounding warning signals that the worst of equities turmoil may not be over. So is the market headed toward another selloff? It may depend on how much stock you put into such omens. Some investors see technical analysis as only so much voodoo, claiming past market patterns give no insight into future movements.
The latest signals come after Wall Street early last month was fixated on another chart -- the "death cross," in which the 50-day moving average of the Dow Jones Industrial Average fell below the 200-day average. The two lines crossed on Aug. 11, and less than two weeks later the gauge dropped 10 percent in four days for its first correction since 2011.
With that in mind, here's what the chartists are seeing in the latest batch of data:
1. A downward sloping neckline in a head-and-shoulders pattern: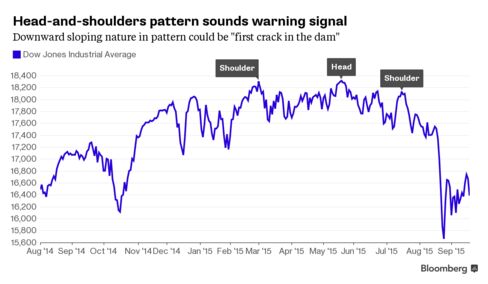 The Dow this year has formed "probably the most famous pattern in technical analysis" -- and it's not particularly encouraging for stock bulls, according to Murray Gunn, head of technical analysis in London at HSBC Holdings Plc.
A so-called head-and-shoulders pattern is a formation comprising two peaks separated by a higher peak. This particular one -- marked by shoulders in March and July and a head in May -- could be "the first crack in the dam" and is special because of the rarity of its downward sloping nature, he wrote in a report Monday.
"It's a bearish pattern which could be signaling a new bear market trend," Gunn said in an e-mail. Investors should watch for increasing volumes on down moves in this benchmark index as the next indication that sentiment is becoming more negative, he said.
If the Dow -- which climbed 0.8 percent to 16,510.19 Monday -- were to trade above 18,137, a level last seen in July, that would provide more optimism, he said. Otherwise, "a new long-term and potentially powerful bear market has started; one that should end below the 2009 low."
That low, on March 9, 2009, was reached after a head-and-shoulders pattern occurred during 2007 and 2008 at the start of the financial crisis, HSBC noted. The date marked the beginning of the current bull market.
2. Dow Theory sell signal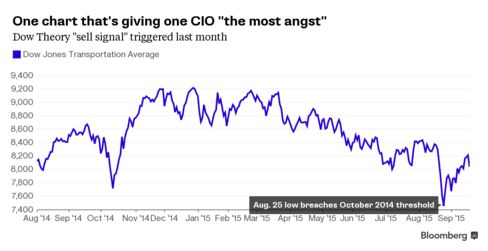 The signal that's "causing the most angst" for Jeffrey Saut, chief investment strategist at Raymond James Financial Inc., in St. Petersburg, Florida, is one that happened last month.
When the Standard & Poor's 500 Index fell to a nearly 10-month low on Aug. 25, two other indexes were below an October 2014 low that many chart watchers were closely monitoring. The Dow Jones Industrial Average and Dow Jones Transportation Average both breached this level, flashing a so-called Dow Theory sell signal. Such a signal occurs when the industrial and transport indexes fall below the low of a previous selloff.
What's behind this angst? There's only been one false Dow Theory signal in the last 18 years, Saut wrote in a report Monday, which gives him "cause for pause." There is reason for optimism, he said, because that one false signal came in May 2010 during the so-called flash crash -- the last time the 30-stock gauge lost 1,000 points intraday, until it happened during the market upheaval in August.
Saut said he hoped this latest signal will prove faulty as well, but that if these two gauges breach their Aug. 25 lows again, this "suggests a change in trend that must at that point be honored."
Another reason for optimism: the S&P 500 has yet to breach its October 2014 trough. True, that index has nothing to do with Dow Theory, Saut points out -- chartists may want to create a new theory.
Before it's here, it's on the Bloomberg Terminal.
LEARN MORE