Billionaire Solorz Gets Record Polish Loan to Refinance Unit
Cyfrowy to cut annual financing costs by 380 million zloty

Cyfrowy sees average interest on debt falling by 300bps
Polish largest television network, controlled by billionaire Zygmunt Solorz-Zak, signed the country's biggest zloty-loan facility to reduce costs and repay bonds amid record-low interest rates.
Cyfrowy Polsat SA and its Polkomtel Sp. z o.o. unit, the television network and mobile phone operator, said it won 12.5 billion zloty ($3.3 billion) in loans from 20 lenders to refinance current debt, a move that saves it 380 million zloty annually. Junk-rated Cyfrowy also said it will book a non-cash positive impact on pretax profit of about 472 million zloty in the third quarter and 80 million zloty in the next four months.
The refinancing follows Solorz-Zak's 2011 record leveraged buyout of Polkomtel and its later acquisition by his TV company Cyfrowy, which helped the billionaire create the country's biggest media and telecommunications group. It allows Solorz to shed the burden of the high-yield notes sold in 2012 to fund the Polkomtel purchase.
"These are very good conditions," Dominik Niszcz, a Warsaw-based analyst at Raiffeisen Bank Polska SA, said on Monday. "The additional flexibility that new debt gives the company may encourage" acquisitions, he said.
'Big Reduction'
The refinancing was oversubscribed and ended up with a "big reduction" of offers from lenders, Chief Financial Officer Tomasz Szelag said in an e-mailed statement. The new debt "allows us to expand our operations faster," he said at a news conference on Tuesday.
Polkomtel's 542 million-euro ($605 million) and $500 million bonds pay almost 12 percent of an annual coupon, which compares with a 4.29 percent coupon, or 250 basis points over the Warsaw Interbank Offered Rate, that Cyfrowy pays on 1 billion zloty of notes it sold in July as part of refinancing. The company will pay back the foreign-denominated bonds at a call date set in January 2016.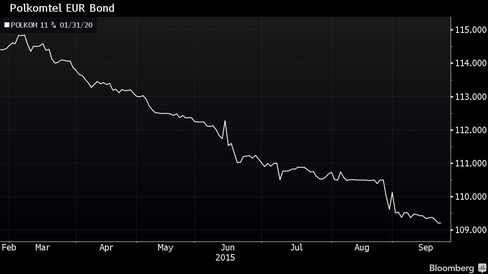 The margin on the loan facility is 200 basis points over Wibor, Cyfrowy said in a website presentation. The spread depends on the ratio of net debt to earnings before interest, taxes, depreciation and amortization, or Ebitda, which was at 3 as of June 30. The margin may drop to 160 basis points within the next 10 to 20 months, Szelag said.
Cyfrowy plans to reduce net debt to 2.5 times Ebitda at the end of 2016. Last year the company said it would pay a dividend if the ratio dropped to this level. The CFO declined to comment on Tuesday whether refinancing would change this plan.
Cyfrowy faces bigger competition from the likes of Orange Polska SA and T-Mobile Polska as they prepare to buy high-speed mobile Internet frequencies on one hand, while on the other, TVN SA, its biggest TV competitor, may get a boost from its new U.S. owner, Scripps Networks Interactive Inc.
The loan was signed with a group of 20 lenders, led by PKO Bank Polski SA, Bank Zachodni WBK SA, ING Bank Slaski SA and Societe Generale SA. It's bigger than the 2.63 billion-euro loan that Polish oil refiner PKN Orlen SA took out in 2011.
Cyfrowy shares fell 0.7 percent to 22.91 zloty at 4 p.m. in Warsaw, compared with 1.6 percent decline in the benchmark WIG20 Index.
Before it's here, it's on the Bloomberg Terminal.
LEARN MORE