Bad-Loan Hiatus Ending for Canada Banks as Oil and Economy Slump
Lenders to allocate most money for soured debt in seven years

`Biggest villain is low oil prices,' Barclays's Aiken says
Soured loans from slumping oil prices and a weakened economy are likely to push Canada's banks next year to set aside the most money since 2009.
Toronto-Dominion Bank, Royal Bank of Canada and four other large lenders are forecast to allocate 27 percent more money for bad debt next year, according to estimates of analysts surveyed by Bloomberg, adding further pressure to earnings as lending slows.
"This is what may create some significant headwinds in 2016," John Aiken, a Barclays Plc analyst, said in an interview. "The biggest villain is low oil prices and what that's doing to the Alberta economy. However, broadly speaking, the Canadian economy is not doing well."
Canadian banks put aside less money for bad loans in the past five years than the historic average, helping boost profits to records. With impaired loans in the energy industry soaring amid crude's almost 50 percent plunge over 12 months and household debt at a record in the second quarter, analysts are expecting that to reverse.
The country's six large lenders will allocate C$8.1 billion ($6.1 billion) for soured loans in 2016, up from C$6.36 billion this year, according to the analysts' estimates. That's the most since 2009, when the Canadian economy shrank in the aftermath of a global financial crisis.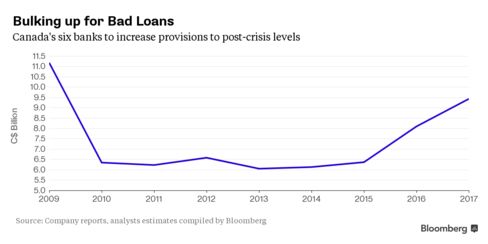 Consumers Tapped
Bank stocks have already been signaling trouble. The eight-company Standard & Poor's/TSX Commercial Banks Index has declined 8.7 percent this year, the worst performance for that period since 2002. The benchmark S&P/TSX Composite Index has fallen 5.8 percent this year.
Canada's economy is forecast to grow 1.1 percent in 2015, the slowest since a 2.7 percent contraction in 2009 and less than half the estimated 2.5 percent increase in the U.S., according to economists surveyed by Bloomberg. Canadian growth is also predicted to trail its southern neighbor's next year, climbing 2 percent compared with 2.7 percent for the U.S.
Provisions are increasing as Canadian consumers pare the pace of borrowing for personal loans and mortgages -- the mainstay business for the banks -- compared to five years ago. Household debt in Canada climbed to a record 165 percent of disposable income in the second quarter, Statistics Canada said Sept. 11, making borrowers more vulnerable if interest rates start to rise.
Impaired Loans
Canadian energy firms have been struggling with a drop in crude prices to $46.68 a barrel in the past year, prompting cost-cutting and job reductions in oil-dominant Alberta. Royal Bank and Bank of Montreal reported that impaired loans in the oil-and-gas industry quadrupled in the third quarter. Lenders could see more deteriorating loans if prices stay low.
At least 250 North American oil-and-gas producers and energy services firms borrowed $39.5 billion from lending syndicates involving Canada's biggest banks, according to data compiled by Bloomberg. About a third of that outstanding amount, or $13.7 billion, is tied to at least 29 energy firms whose corporate bonds are trading at distressed levels, the data show.
Bank of Nova Scotia Chief Executive Officer Brian Porter said in a Sept. 9 banking conference in Toronto that he expects a "moderate increase" in provisions for corporate loan losses. Toronto-Dominion Bank sees an "uptick" in provisions largely due to higher volumes, though nothing "to suggest we're going to fall off a cliff," CEO Bharat Masrani said.
Other bank CEOs including Royal Bank's David McKay said they're not expecting a major credit downturn, despite difficulties in Alberta and the energy sector. Spokesmen for the banks declined further comment.
Gabriel Dechaine, a Canaccord Genuity Group Inc. analyst, said boosting provisions for bad loans is just another potential drag on banks' earnings.
"I don't think it's a blood-in-the-streets panic mode type of situation," Dechaine said in an interview. "It's just one that you have to consider as an earnings risk for Canadian banks."
Before it's here, it's on the Bloomberg Terminal.
LEARN MORE