Atlantic City Budget That Closes Deficit Approved by State
Atlantic City, the distressed gambling resort whose finances are being overseen by New Jersey, is closing a $101 million budget deficit this year by firing workers, tapping state aid and drawing on casino money.
The budget approved by the state's Local Finance Board Tuesday depends on Governor Chris Christie approving bills that would allow it to spend $33.5 million of revenue from casinos that now goes to redevelopment projects and marketing, Mayor Don Guardian said after the meeting. The measures are currently awaiting Christie's signature.
The budget is an initial step by the state-appointed emergency manager Kevin Lavin to ease a fiscal crisis in the city, whose onetime dominance over gambling in the East Coast has been eroded by competition from neighboring states. The closing of four of 12 casinos last year battered Atlantic City's tax base.
"We understand that we can't get out of this by ourselves," Guardian said during a hearing in Trenton.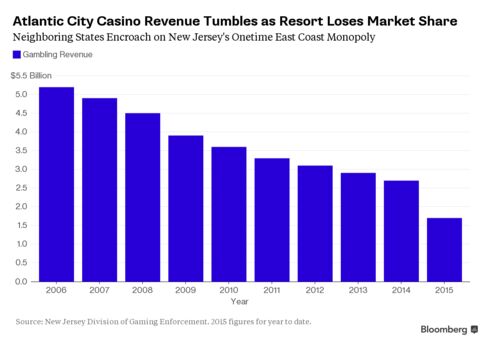 The city has fired more than 100 employees, bringing the workforce to about 980 compared with 1,255 in October, he said. The $262 million budget also puts off payments for employee pensions and health-care benefits. It continues to meet Atlantic City's obligations to bondholders.
Standard & Poor's last month cut the city's credit rating deeper into junk because it had yet to lay out detailed plans for dealing with its fiscal distress. S&P ranks the debt B, five levels below investment grade. Moody's Investors Service grades it two steps lower at Caa1.
Christie's spokesmen haven't said if he will sign the Atlantic City-related bills.
Guardian said he isn't worried about a veto.
"I'm very grateful" to the legislature that passed the bills, he told reporters after the meeting. "Atlantic City is still a good cash cow. We're wounded. We're not dead."
Before it's here, it's on the Bloomberg Terminal.
LEARN MORE