Argentine Parallel Exchange Rate Rallies on Regulator Resolution
Resolution caused dollar bonds traded in pesos to tumble

Measure intended to reduce volatility, officials say
The exchange rate used for most financial transactions in Argentina, known as the blue-chip swap, gained the most since March after the securities regulator ordered mutual funds to change the way they value their portfolios.
The peso strengthened 3.7 percent in that market to 13.60 per dollar as of 3:30 p.m. in Buenos Aires. The securities regulator published a statement Tuesday requiring mutual funds to value foreign-currency assets at the official rate of 9.39 pesos per dollar instead of the blue-chip swap rate, sparking a selloff in local dollar-denominated bonds that are used to determine the value of the peso in the parallel market.
The change in valuation means investors' dollar-denominated notes should be worth 30 percent less which is spurring some investors to sell those assets rather than booking a loss. As next month's presidential elections approach, the government is trying to increase the supply of U.S. dollars and strengthen the parallel rate in the market by prompting mutual funds to sell foreign currency holdings, according to BancTrust & Co. The securities regulator said the resolution is intended to "reduce high levels of volatility."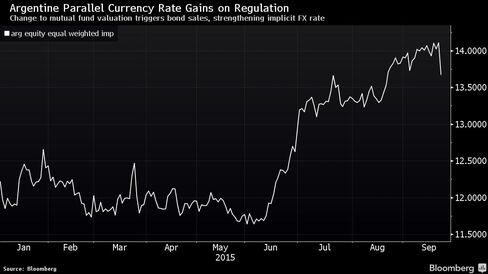 "This alternative measure is to strengthen the blue-chip swap and to force these funds to invest in the real economy," said Joaquin Almeyra, a trader at Bulltick LLC in Miami. "It's bad news for the local capital market."
Since President Cristina Fernandez de Kirchner installed currency controls in 2011, the market has bought and sold peso and dollar-denominated assets at a rate weaker than the official as a way to skirt the controls. A separate statement by securities regulator head Cristian Girard said that the measure aims to ensure asset valuations are protected from "excessive fluctuations" by being based on the official rate.
Government bonds due 2024 sank 6.5 percent to 1,311 pesos while notes due 2017 fell 6.1 percent to 1,340 pesos in Buenos Aires. The resolution also caused government notes in dollars traded abroad to fall. Local fund managers are "still scratching their heads" about the resolution and the mutual fund association could seek a court order to delay or block the implementation, according to Torino Capital LLC.
"The resolution is causing massive sales of bonds," said Hernan Yellati, the head of strategy at BancTrust. "It's a measure that simulates a supply of dollars temporarily until portfolios are balanced again."
Before it's here, it's on the Bloomberg Terminal.
LEARN MORE