Cablevision Debt Slides as Altice Said to Plan Bonds for Buyout
Notes are latest part of financing for $17.7 billion takeover

Altice's $6.3 billion bond offering may be sold Friday
A rout in the debt of Cablevision Systems Corp. deepened as Altice NV was said to be planning a $6.3 billion bond offering to back its takeover of the U.S. cable operator.
Bonds of Cablevision tumbled Tuesday, extending losses that began last week signaling investor concern that the $17.7 billion takeover will bury creditors in debt.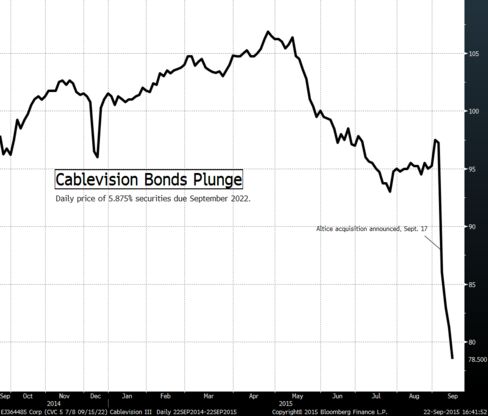 "It was obvious there was going to be a lot of leverage added to the structure, but exactly how they would choose to structure it wasn't initially crystal clear," said Mark Chapman, an analyst at research firm CreditSights Inc. "Some people would have hoped for more of the debt to come behind them."
Altice is offering the bonds in two parts through an entity called Neptune Finco Corp., which will merge with Cablevision's operating unit CSC Holdings, according to a person with knowledge of the matter, who asked not to be identified because the information isn't public. That would add to CSC's $5.6 billion debt load, according to data compiled by Bloomberg.
Cablevision's 5.875 percent notes due September 2022 plunged 2.4 cents today to 78.9 cents on the dollar to yield 10.2 percent, according to Trace, the bond-price reporting system of the Financial Industry Regulatory Authority. The bonds were trading at 97.5 cents as recently as Sept. 9.
Lisa Anselmo, a spokeswoman for Cablevision, didn't immediately respond to phone and e-mail messages seeking comment on the Altice offering and subsequent move in Cablevision's bonds.
Moody's Investors Service placed its Ba2 grade for Bethpage, New York-based Cablevision on review for downgrade last week after Altice proposed the deal, saying a rating cut will depend on how quickly "cost synergies" can materialize to offset the high leverage incurred to back the acquisition. The purchase is expected to be completed in the first half of next year.
Standard & Poor's took a similar step with its BB- rating for the cable company on creditwatch with negative implications.
Cablevision began marketing to investors yesterday a $2.3 billion term loan to help fund its buyout by billionaire Patrick Drahi's Altice.
The Altice bond sale may be completed by Sept. 25, said the person. The debt will be redeemed at 100 percent of the initial issue price in the event that the acquisition doesn't close by December of next year.
Before it's here, it's on the Bloomberg Terminal.
LEARN MORE