Turnbull Catapults Coalition Ahead as Consumer Confidence Soars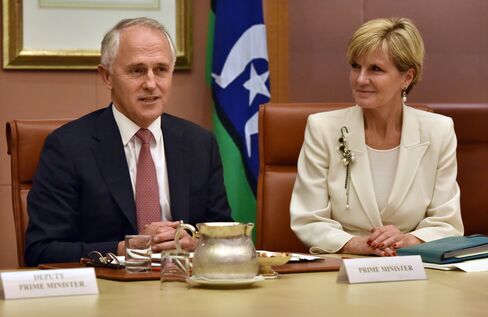 ANZ weekly consumer sentiment index rises by record 8.7%

Government leads Labor in poll for first time in 17 months
Malcolm Turnbull has catapulted Australia's ruling coalition ahead in a key opinion poll for the first time in 17 months and delivered a record bounce in consumer confidence, just a week after taking over as prime minister.
The Liberal-National coalition leads the main opposition Labor party by 51 percent to 49 percent on a two-party preferred basis, according to a Newspoll conducted Sept. 17-20. Earlier this month, when Tony Abbott was still prime minister, the coalition trailed by eight points. A weekly consumer sentiment index rose by a record 8.7 percent.
The bounce in consumer sentiment "is a clear vote of confidence" in Turnbull, said Warren Hogan, chief economist at Australia & New Zealand Banking Group Ltd., which compiles the index with Roy Morgan. "The new prime minister's first 100 days in office will be essential to formulating a new narrative for the economy."
The surveys indicate that Turnbull is already replenishing the government's political capital and encouraging households, whose reticence to spend has been a key constraint on growth. The new leader now needs to revitalize the government's stagnant political agenda, come up with a plan to boost growth and heal the wounds created by last week's divisive leadership battle.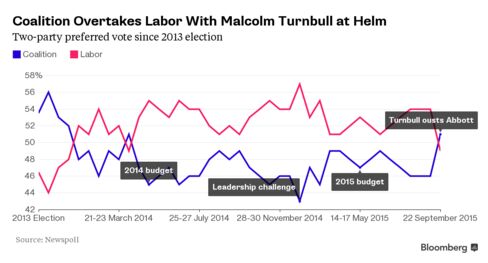 The Newspoll shows Turnbull is the preferred prime minister for 55 percent of voters, with Labor leader Bill Shorten on 21 percent. That's the highest rating for a prime minister since Julia Gillard in July 2010, while the government's 51 percent support is its best since April 2014. The coalition has languished behind Labor since delivering its first budget in May 2014, amid a backlash against unflagged spending cuts.
"This shows a lot of voters have given tentative approval to the leadership change," said Zareh Ghazarian, a Melbourne-based politics professor at Monash University. "But it still shows that almost half of them would prefer a different government, so they're waiting to see if Turnbull can now put his words of positive change into action."
One Term
The Newspoll was taken days after Turnbull, 60, challenged Abbott on Sept. 14 for the leadership of the Liberal Party, after slowing growth and a series of political misjudgments led to concerns the government may lose next year's elections after one term in power.
The survey of 1,645 voters has a margin of error of plus or minus 3 percentage points.
Turnbull, a former lawyer and self-made millionaire, said in a television interview Monday that he'll be able to relate with ordinary Australians through his "emotional intelligence."
Policy Priorities
He used the interview with the Australian Broadcasting Corp. to outline several economic policy priorities.
"Tax reform is going to be a big part of our reform agenda going forward," Turnbull told the ABC, declining to provide details. He indicated the government would seek to avoid conflict if it pushes ahead with changes to labor market regulations.
"The challenge for us is not to wage war with unions or the workers that they seek to represent, but really to explain what the challenges are and then lay out some reform options," Turnbull said.
As Turnbull seeks to refresh the government, his new ministerial team was sworn in Monday, with women and younger lawmakers promoted ahead of those loyal to Abbott.
Labor sought to brush off the Newspoll.
"You're always going to get some sort of honeymoon for a new prime minister," Shadow Treasurer Chris Bowen told reporters in Sydney Tuesday. "It takes people a while to decide what they think about a new government, a new prime minister."
Before it's here, it's on the Bloomberg Terminal.
LEARN MORE