Swiss Vacancy Rate at 14-Year High Doesn't Ease Urban Pressures
Increase in vacancies contributes to slower growth in rents

Restrictive laws keep vacancies low in Geneva, Zurich
The number of empty apartments in Switzerland climbed to the highest since 2001, slowing the pace of rental increases.
The number of empty flats or residential houses rose 12 percent to 51,172 as of June 1 from a year earlier, giving a vacancy rate of 1.19 percent, Switzerland's Federal Statistics Office said in a statement on Monday. The census is carried out annually.
The gain in vacancies has contributed to slower growth in rents, said Fredy Hasenmaile, head of property research at Credit Suisse Group AG in Zurich.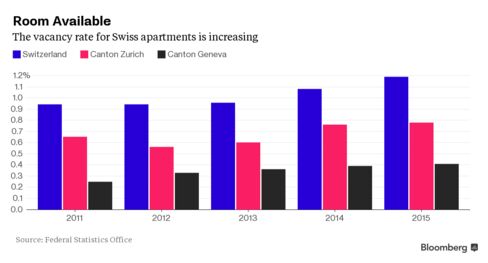 Low borrowing costs and high immigration have fueled a boom in Switzerland's residential property market, with the housing shortage particularly pronounced in centers such as Zurich and Geneva. The situation in those cities, together with Lausanne and Basel, is still "strained," according to Hasenmaile.
"The problems in these cities is partly homemade thanks to restrictive building laws -- there are huge conflicts of interests," said Hasenmaile. Still, thanks to a lack of other opportunities, investment in residential real estate will increase, he said. "We'll start to see an oversupply -- but it will be in slow motion."
Before it's here, it's on the Bloomberg Terminal.
LEARN MORE