Robert E. Simon Jr., Reston, Virginia's Founder, Dies at 101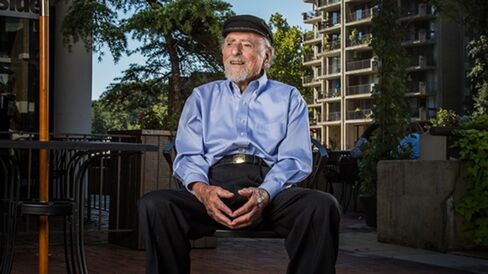 Robert E. Simon Jr., whose planned community of Reston, Virginia, became home to almost 60,000 people in the suburbs of Washington, has died. He was 101.
He died Monday at his home in Reston, the Reston Association said on its website. No cause was given.
Simon invested about $12 million into 6,750 acres of farmland and designed what he hoped would be a template for modern living. The first homes in Reston were occupied in December 1964.
The town was designed as a high-density suburb arranged around European-style piazzas and interspersed with New York-style urban parkland. Schools and businesses were part of the plan for an all-inclusive community designed for full racial integration, a rarity at the time.
"The way people live is at least as important to them as where they live," Simon said in 1967, according to an article in the Saturday Evening Post.
The Reston plan remained largely intact through the decades. In 2014, Reston -- its name derived from Simon's initials -- celebrated its 50th anniversary and was connected, for the first time, to Washington's Metro system.
Reston's Success
Simon, who lived in a high-rise in the center of town, said he was proud of Reston's success, according to an article in the Washington Post. He also had plans to add a theater and indoor tennis courts, while perhaps reducing the number of strip malls that had crept in over the years.
"Simon's goals for his new town were inclusive," John W. Clark, a Chicago-based architect and planner wrote in 2001 in "Planning," the journal of the American Planning Association. "Economic success, he felt, would flow from the harmonious way the town met peoples' needs for work and home life. The living environment should include everything needed for an entire lifetime, he strongly believed."
There had been challenges from the start. Simon's vision of an integrated, mixed-use community providing for every need from cradle to grave never completely jelled, starting with the lack of a cemetery. Reston's finances sputtered in the early years as home buyers were slow to embrace the town's modern architecture. Within three years of its founding, Simon was removed as head of the development corporation.
Growing Population
Under new management, Reston allowed construction of more diverse -- and cheaper -- homes. Growth picked up in the 1980s and, in recent years, the population has hovered at about 60,000, not far from the 75,000 projected in Simon's first plan.
After living on New York's Long Island for 25 years, Simon returned to Reston in 1993 and resumed his role of community visionary. A statue of Simon, "Bronze Bob," was commissioned in his 90th year and sits on a bench in the town center.
Robert Edward Simon Jr. was born on April 10, 1914, in New York, according to his biography at the Reston Planned Community Archives. His father, Robert Sr., was one of the top real-estate investors in New York, and owned and operated Carnegie Hall. His mother was the former Elsa Weil.
Simon graduated from the Horace Mann School in the Bronx in 1931. He received an arts degree from Harvard College in Cambridge, Massachusetts, in 1935.
Carnegie Hall
Also in 1935, his father unexpectedly died, leaving Simon in charge of the family real-estate business. Simon ran Carnegie Hall from 1939 to 1960, installing air conditioning for the first time and promoting jazz and pop performances while maintaining the hall's reputation as one of the world's most heralded performance spaces.
In 1960, Simon sold the hall to New York City for $5 million and, in 1961, paid $12.8 million for the Virginia land that would eventually become Reston, according to an article in the New York Times.
After leaving Reston in 1967, Simon continued to work as a developer. In 1972, he attempted to start another planned community, Riverton, near Rochester, New York. The project stalled amid financing problems.
He also consulted with governments in Honduras and the Philippines on planned communities, according to a 1994 article in the Washington Post.
Simon said he found life in Reston to be better than elsewhere.
"When I lived on Long Island, if I wanted to see a friend, I had to make a date. It was a drive," he said in 2004, according to the Washington Post. "I drop down in the elevator, and I'm there in Lake Anne Plaza. I've got six restaurants, a lawyer, a dry cleaner, a pharmacist, a used-book store and a bank. It's all here. Right here. And friends, the most important thing."
Simon was married to the former Cheryl Terio, a Reston resident. Previously, he married the former Helen Douglas Adam in 1939, and the former Anne Wertheim Langman, after whom Reston's Lake Anne is named, in 1960.
Before it's here, it's on the Bloomberg Terminal.
LEARN MORE