Previously Owned U.S. Home Sales Retreat on Limited Availability
Listed properties second-lowest for any August in 13 years

Realtors group projects biggest year for purchases since 2006
A U.S. housing market that heated up earlier this summer cooled down in August as lean inventories tempered buyer interest.
Sales of previously owned U.S. homes declined 4.8 percent to a 5.31 million annual rate from a 5.58 million July pace that was the strongest since 2007, the National Association of Realtors reported Monday. The number of listed properties was the second-lowest for any August since 2002.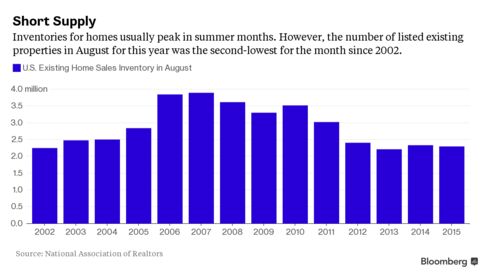 A limited number of available homes, along with stubbornly low wage growth, has prevented the residential real-estate market from making greater headway this year. While borrowing costs remain subdued, Federal Reserve Chair Janet Yellen said the pace of improvement has been at odds with firmer employment and demographics that should provide a bigger boost.
"Inventories are still holding back sales," said Stuart Hoffman, chief economist at PNC Financial Services Group in Pittsburgh, whose 5.4 million forecast was among the lowest in a Bloomberg survey. Still, the "momentum is there -- more jobs, more income, more credit availability and still-stable mortgage rates."
That explains why the Realtors group projects 5.29 million previously owned homes, the most since 2006, will be sold this year.
Seven Months
The drop in August was the biggest in seven months. The median forecast of 73 economists surveyed by Bloomberg called for August sales to ease to a 5.5 million annual rate. Existing home sales, which are tallied only when purchase contracts close, account for more than 90 percent of the residential market. Compared with a year earlier, purchases increased 5.4 percent in August before adjusting for seasonal variations.
The median price of an existing home rose 4.7 percent from August 2014 to $228,700. The appreciation was led by a 7.1 percent year-to-year advance in the West and a 6 percent increase in the South. Those were also the two regions that had the biggest declines in sales.
Prices have been rising because of a lean supply of available properties. While the number of previously owned homes for sale rose 1.3 percent in August to 2.29 million, inventory was down 1.7 percent from the same month last year.
"We have had a tight inventory situation and we continue to experience a tight inventory situation," Lawrence Yun, NAR chief economist, told reporters as the figures were released. "As consumers are hit with affordability, there's less buying activity."
Days on Market
Properties stayed on the market for 47 days in August, down from 53 days in the same month last year, according to the group.
Sales of existing single-family homes decreased 5.3 percent, the biggest decline since July 2010, to an annual rate of 4.69 million. Purchases of multifamily properties -- including condominiums and townhouses -- fell 1.6 percent.
There was a glimpse of better news for the housing market as first-time buyers accounted for 32 percent of all purchases, matching the highest of the year, the report showed. Even with the increase, the share is below normal, which is closer to 40 percent, Yun said.
Distressed Sales
Another sign of the market's health was a drop in distressed sales, comprised of foreclosures and short sales in which the lender agrees to a transaction for less than the balance of the mortgage. They accounted for 7 percent of the total, matching the lowest since October 2008.
Data last week from the Commerce Department show that builders should stay busy in the months ahead.
While residential starts declined 3 percent to a 1.13 million annualized rate from a 1.16 million pace the prior month that was slower than previously estimated, applications to begin work jumped. Permits for single-family home construction, the largest and most economically significant part of the market, climbed to the highest level since January 2008.
Steady job gains and historically low mortgage rates are building blocks for the housing market. At 5.1 percent, the U.S. jobless rate is the lowest since April 2008.
The average 30-year fixed mortgage rate was 3.91 percent last week, according to Freddie Mac data. That compares with the 6.06 percent average in the five years leading to the last recession.
Fed Meeting
Fed policy makers decided at a meeting last week to keep their benchmark interest rate near zero, showing reluctance to end an era of record monetary stimulus in a time of market turmoil, rising international risks and scant inflation.
Yellen said at a press conference after the announcement that residential real estate remained "very depressed" but probably would show improvement as job and income growth improves.
"We are not too concerned because we think Fed policy changes will not have too big of an impact on mortgage rates," Yun said.
Before it's here, it's on the Bloomberg Terminal.
LEARN MORE