Nordic Craving for Instant Power Shunned by Best Suppliers
Norway trading in regional intraday power market at 6-year low

Traders want Norway hydropower to smooth volatile wind energy
Nordic electricity traders want more Norwegian hydropower to smooth the region's burgeoning supply of unpredictable wind energy. Trouble is, Norway, the biggest generator, is not interested in sharing.
Trading by Norway in a market used to fine-tune power output fell 13 percent to a six-year low in the first half, while activity from other countries rose 46 percent, according to the Nord Pool Spot AS exchange. Hydro producers from BKK Produksjon AS to Lyse Kraft AS say they're staying away because cables are already at full capacity and they get paid more under local grid rules for not changing their production plan.
The ability of water turbines to start within seconds makes hydro generation ideal to smooth fluctuations in a region where wind power has more than doubled since 2010 to a record. Without Norway's hydropower, which provides virtually all the nation's electricity, traders, producers and utilities rely on costlier output to meet shortfalls, sometimes importing fossil-fuel generation from abroad.
"Everyone would gain from more Norwegian hydro production" in the market, said Bo Palmgren, head of intraday trading at Danske Commodities A/S in Aarhus, Denmark, which started buying and selling Norwegian intraday power in June. "Flexibility is a key feature in intraday trading that should be used to help shut down more-expensive and less-flexible production elsewhere in Europe."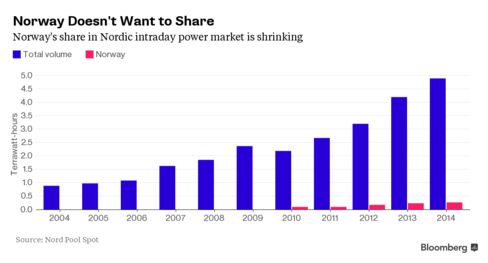 Spurred by a European Union-wide drive to harness green energy, Nordic annual wind power production will grow 79 percent in the six years through 2020 to 50.9 terawatt-hours, or almost 13 percent of the region's total demand, according to Markedskraft ASA, an energy adviser in Arendal, Norway.
Unexpectedly calm weather may leave a wind-farm operator short of the electricity they committed to provide the following day. They can then buy the missing volume for specific hours in the intraday market in order to stay in balance.
The day-ahead price for individual hours this year on the Nord Pool Spot exchange in Oslo fluctuated from 77.05 euros ($87) a megawatt-hour to minus 13.42 euros. The variance is more extreme in the intraday market, where prices swung from 220 euros to minus 150, Nord Pool data for 2014 show. Negative prices mean that producers pay consumers to take the electricity off the grid.
No Need
Norway's ample reserves of stable hydropower mean its producers typically don't need the intraday market to balance output changes, according to Sigve Ekeland, the head of power management at Lyse Produksjon, which has been generating power from reservoirs in the mountains of west Norway for more than 100 years.
"Producers on the continent have a higher price risk as the probability for peak and negative prices are bigger," Ekeland said from Stavanger, Norway. "They have a completely different incentive to trade themselves in to balance."
Norway produced 141 terawatt-hours of electricity in 2014, or about 37 percent of total Nordic generation, yet it only accounted for 7 percent of intraday market volume, according to Nord Pool. Total same-day transactions increased 75 percent between 2010 and 2014 to 4.9 terawatt-hours on Nord Pool.
With less need for intraday trading, most of the capacity on Norway's power lines is reserved for what the producers agreed to provide at the previous day's auction. This restricts what they can supply at short notice even if they wanted to, according to Ekeland.
Also, Norway's rules for keeping its grid in balance penalize producers for varying output from what they have committed in the day-ahead market, according to Harald Freihow Sande, head of the power optimization division at BKK Produksjon AS, a Norwegian hydro producer.
The lack of available Norwegian power in the market means "more volatile prices with greater peaks and deeper lows" in the intraday market, Mia Bodin, an analyst at Modity Energy Trading AB in Lund, Sweden, said in an interview. "With a higher presence of Norwegian producers, liquidity would increase and prices would even out more."
Before it's here, it's on the Bloomberg Terminal.
LEARN MORE