Breakups can be rough.
Nowhere more so than in Ukraine, whose pursuit of free trade with the European Union set off a chain of events that decimated economic ties with Russia, its biggest business partner since Soviet days. President Vladimir Putin's government has restricted export routes for goods from dairy products to pipes. The conflict in the nations' borderlands has curbed lucrative foreign sales of iron ore and steel.
Total exports, $69 billion back in 2012, have sunk to $22 billion, and finding alternative customers is proving tough.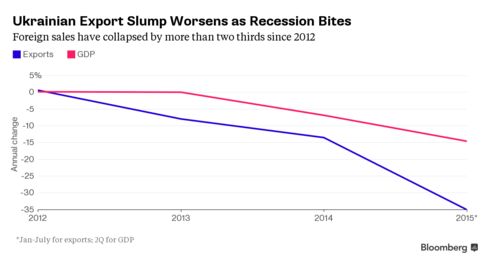 "Re-orienting the exports that previously went to Russia remains a challenge," said Goldman Sachs economist Andrew Matheny. "It's hard to find alternative buyers for many of the very specialized goods, such as machinery and military technology, that are integrated with Russian supply chains."
Trade is vital to Ukraine's recovery from recession. Indeed, the central bank reckons net exports will be the only driver of growth this quarter in what would be the first economic expansion in two years.
Tariff-free quotas from the EU for wheat and poultry have helped bilateral trade. China has also provided an alternative destination for agricultural goods such as grains. Data released this month show Chinese sales advancing and its share of exports from Ukraine swelling. Grain exports are set to reach almost 35 million tons this year, close to a record.
But there are new headwinds. While Ukraine's devaluation boosted competitiveness, the plunge in commodity prices has dragged down other currencies. That's leveled the playing field as Ukraine seeks to peddle products such as poultry and eggs to new customers.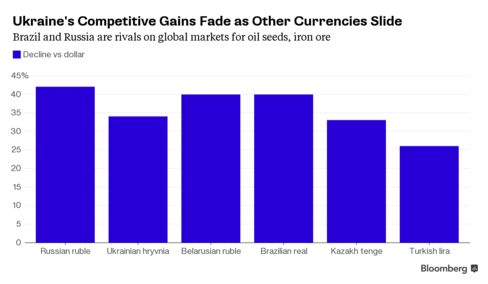 And Ukraine's scorned neighbor may not be done venting its anger. Russia is threatening a blanket ban on imports from Ukraine if the controversial free-trade pact with the EU goes into force as planned in January.
Before it's here, it's on the Bloomberg Terminal.
LEARN MORE