Goldman Sachs Has Some Bad News for Investors Who Like to Pick Stocks
Low return dispersion and a stock market selloff combine to make life hard for active investment managers.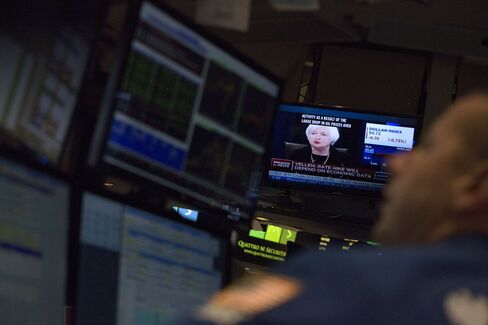 Something very rare just occurred in the S&P 500 and it's going to make the rest of the year pretty difficult for active investment managers seeking to beat the broader market, according to Goldman Sachs.
David Kostin, the bank's U.S. equity strategist, and his team note that return dispersion -- or the difference in returns between stocks -- has fallen following last month's dramatic market sell-off. To complicate matters further, Kostin notes, equity sell-offs and falling dispersion rarely occur at the same time. In fact, since 1981, Kostin says this has only happened twice: Black Monday in 1987 and in the latter stages of the tech bubble.
He says that this means the selloff isn't due to changing views on company fundamentals but a more general set of macroeconomic events instead. Market uncertainty means that Kostin and team don't expect this to change soon, making 2015 a tough year for those seeking the elusive outperformance known as "alpha."
We ultimately expect dispersion to remain low during the next several quarters, owing to our economists' forecast for sustained economic growth. During periods of economic strength, most S&P 500 firms generate solid sales and earnings growth, diminishing performance differentials among stocks. In contrast, during periods of weak growth, return dispersion increases as the market becomes increasingly discerning over which companies are best positioned to weather economic downturns.

Source: Goldman Sachs
So what's an investor to do? Goldman obviously has some suggestions.
Kostin and Co. published a list of 25 stocks with "high dispersion scores," meaning they're more likely to react to company-specific trends rather than general macro events, and that have the potential to outperform analyst expectations. They also include 10 stocks with high dispersion but a tendency to underperform.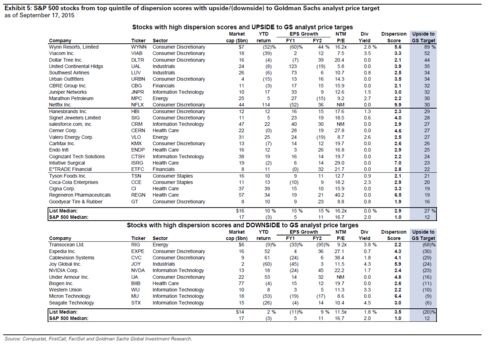 Some big names on the upside list include Wynn Resorts, Dollar Tree, Southwest Airlines, Netflix, E*TRADE Financial, and Cigna Corp. Stocks that could see large downsides are Transocean, Expedia, Biogen, and Cablevision Systems.
Before it's here, it's on the Bloomberg Terminal.
LEARN MORE