Goldman Sachs Earns New Animal Moniker From Oppenheimer in Upgrade
Move inventory like a butterfly, trade like a bumblebee.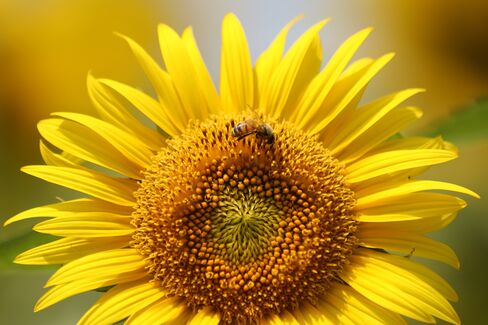 Buzz, buzz.
This morning, analysts at Oppenheimer, led by Chris Kotowski, upgraded Goldman Sachs to "outperform" from "perform" with a price target of $236 -- almost 30 percent more than the bank's current share value.
"We have been on the sidelines with respect to Goldman's stock mainly because we have had a bearish outlook on the trend in FICC trading," writes the analyst. "However, the argument that Goldman cannot thrive in this environment—one that we have made ourselves—is increasingly sounding like the argument that bumble bees can't fly."
The acronym "FICC" refers to a bank's fixed income, currencies, and commodities trading division. A number of banks have scaled down their trading desks, a capital-intensive part of the business, in the wake of the financial crisis and new regulations that force these institutions to maintain larger capital cushions. As such, FICC revenue in the industry appears to be in structural decline.
Goldman's FICC division is certainly hefty, the analysts observe, having accounted for one-quarter of revenue in 2014. Even so, it punches above its weight in a manner that defies the skeptics, prompting this colorful comparison.
"Bumble bees' wings are too small and their bodies are too heavy to fly, and Goldman's FICC business is too large and important to earn good returns," writes Kotowski. "And yet, bumble bees do fly and Goldman consistently earns better than industry average returns."
Kotowski warns, however, that his optimistic view on the company has a one- to two-year time frame, and that there might be some bumps in the meanwhile. Oppenheimer ratcheted down its estimate for the company's third-quarter earnings to $4.36, from $5.24, citing softness in its investing and lending segment due to the market turmoil and potential drop-off in FICC revenue.
Nevertheless, Goldman probably appreciates the upgrade, and the bumble bee analogy is certainly more charitable than the last time parallels were drawn between the investment bank and an animal. In July 2009, Rolling Stone's Matt Taibbi famously wrote that Goldman was "a great vampire squid wrapped around the face of humanity."
A spokesman for Goldman Sachs declined to comment on the Oppenheimer note or on bumble bees.
Before it's here, it's on the Bloomberg Terminal.
LEARN MORE